Rafting/Kayaking adventure on river Kupa, Croatia
The most exciting whitewater experience nearby north croatian coast. Only 1 h from city Rijeka, Kvarner bay area with islands and 1.5 h from Istra peninsula or Zagreb. This trip is easy-moderate, in some cases after rain it can be very intensive. You will experience the whitewater waves and rapids.
Child from 6 y.o. are welcome
There isn´t necessary previus experience
Trip can combines with canyoning or paintball (min. 8 person) on request
Grill in our camp can organises
Included

- transfer to starting position
- using of all necessary equipment (wet suite, water shoes, neoprene jacket, helmet, life jacket)
- licensed guide
- local taxes and fees
- parking in our base

Not included

- food and drinks
- transfer to/from attraction
- pictures of the tour

Duration
3 Hours
Bring along

- bath suite and towel
- extra t-shirt
- bottled drinking water,
- snacks/food

Participants
Tour takes place from 6 - 30 participants
Categories
White Water Rafting, White Water, White Water Rafting in Krivac, White Water Rafting in Primorsko-goranska županija
Languages
English, German
Opening hours
Region
Krivac, Primorsko-goranska županija
Requirements

- normal physical and psychical condition,
- minimum 6 y.o. in companied of parents or guardian
- children under 18 y.o. without their parents must bring a signed parantal consent with which they give consent that their child is allowed to attend our arranged trip
Venue
Rafting Croatia-Kupa Sports
Rafting Croatia - Kupa Sports, Brod Na Kupi, Kroatien
Parking in our base camp is available even for buses!
Nearest train and bus station is Delnice. We can pick you up with supplement!
Offered by
Tourism Kupa Sport j.d.o.o.
51301 - Krivac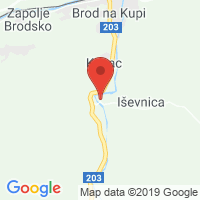 Further information
This whitewater experience is perfect for school groups, sport groups, companies, families...
Upper part of river Kupa is perfect for whitewater rafting/kayaking in spring and autumn time. Water level reacts on every rain at that time so you can expect higer water level.
We will pass around 10 km of upper part of river Kupa, only 15 km from the source. Sometimes we passing around 25 km when the water level is higher. The river is pretty fast and intensive. 
We use rafts for 6 persons with guide in each and in some cases mini rafts for 3 persons with guide in own boat if the water level is too low. You will get all instruction and training on the starting position and the whole trip is controlled by proffesional guides. You will pass several rapids 15-300 m long. Some of them are intensive depends on water level. 
The landscape around river is gorgeus the same as water purity and color. On the best spot we will have break with cliff jumping and swimming in rapid. 
Photographer will follow us and take a pictures on the most interesting rapids.
6 Reviews
empfehlenswert für Familien mit Kindern
Tolle Tour für Familien mit Kindern, da die Strecke nicht zu anspruchsvoll ist. Es war alles sehr gut organisiert und die Guides waren sehr nett. Die Tour dauerte mit ca. 3 Stunden überraschend lange. Eine Pause zum Stärken und Essen wäre schön gewesen. Aber für den Preis auf jeden Fall zu empfehlen!
by Sandy Witschas on 08/07/2019
Rafting
Everything was nice!!!;-))))
by Anna Maria on 06/27/2019
Fantastic experience on Kupa-river
We went there for a bachelor party and all was perfect. The guys are very professional and very organized. It is possible to go on river by kayak for 2 or 3 people and the entire trip is more or less 3 hours. I strongly suggest to observe the natural landscape that surrounds you during the entire trip duration. During the trip one of the guys will take you some pictures in order to have one a memory of the trip. If you are looking for a non-conventional experience for celebrating one special days I prompt this Adventure!
by Roberto Ferri on 06/27/2019
know betterbook bettergo better
TripAdvisor Traveler Rating
157 Reviews
More offers from this partner