TerraZoo Rheinberg - Discover the Animal World
Discover the reptile and amphibian world at the TerraZoo in Rheinberg. Spend an exciting day with friends or family. New in TerraZoo: the Black Mamba and the Inland Taipan.
Exotic reptiles and amphibians in the reptile house Rheinberg
Marvel at monkeys and prairie dogs
New: the Black Mamba, the Inland Taipan and the Albino Alligator
Venue
TerraZoo Rheinberg
Melkweg 7, 47495, Rheinberg, Germany
Parking available
Bus 913: "TerraZoo" stop
Offered by
RAS-ZOO GmbH
47495 - Rheinberg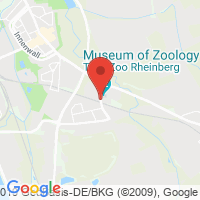 Further information
TerraZoo Rheinberg is a privately-held Zoological Institute and reptile house, which holds 80 species of cold-blooded animals featuring 250 individuals in their authentic habitats. All terrariums use real plants and soils of different origins. The main attraction are the reptiles, but you can also observe amphibians and invertebrates.
All terrariums are visible from at least 3 different angle views and without any "settings" in the scenery. Watch the animal keepers while they work and ask them interesting questions. In TerraZoo there are only cold-blooded animals presented. Most of them are reptiles (lizards, snakes, turtles and crocodiles), invertebrate animals (arthropods like spiders and insects) and some amphibians (frogs and toads.)
Back again in TerraZoo: The Black Mamba and the Inland Taipan. You will find more poisonous snakes and lizards in the zoo. Surprise yourselves!
14 Reviews
Super Ausflug mit vielen Attraktionen
Es gab da Probleme mit ausdrucken vom Tickets.. aber das würde sehr schnell geklärt und korrigiert
Bin sehr zufrieden .. immer wieder gerne
by Justyna Lehmann on 01/19/2018
sehr schön
Viele Tiere, schön eingerichtet und sehr freundlich. Die Vogelspinnen hatten auf dem Hinterleib noch alle Haare was ich mal als positives Signal deute.
by Marc on 02/18/2017
Suoer!
Artenvielfalt
Für Kinder geeignet
Gehegegröße in Ordnung

by Maria T. on 01/27/2017