1 h Team SUP-Board for maximum 6 person
The Starship Teamboards are awesome! Get on board with your family, your friends, your collegues or your stag party - you will definetly have fun. Located at Strandbad Starnberg with a terrific view on lake and mountains.
all together on one big board!
maximum 6 people on the starship
ride fast, have fun, enjoy the big board
easy to learn
introduction inclusive
Included

1 Stunde Stand-up-Paddling inkl. qualitativem Board, Paddel und Schwimmwesten sowie eine kurze Sicherheitseinweisung samt Tipps zu Paddeltechnik

Not included

Basic price 60 € is up to 4 people.
in case of 5 people: 10 € extra payment cash on location
in case of 6 people: 20 € extra payment cash on location

Optional: Neopren Suit Rental 3 €.
Bathing beach entrance is temporarily free

Duration
1 Hour
Bring along

Sun protection, swimwear, towel, if you have a waterprooved watch.

Participants
Spectators free of charge
Languages
German, English, Spanish
Opening hours
Region
Starnberg, Bavaria
Requirements

You must confirm that y can swim in open water for at least 5 minutes without any support.
You have to accept the General Conditions.

Important information

Die Station befindet sich IM Seebad Starnberg. Der Eintritt ins Seebad ist nicht in unserem Preis enthalten!

www.seebad-starnberg.de

Ausdruck dieses Tickets ist nicht erforderlich, Buchungsbestätigung auf dem Smartphone ist ausreichend.

Wichtig: Bitte mind. 30 min. vor Buchungsbeginn im Seebad einchecken!

Additional information
terms and conditions SUP Club 2019.pdf
Venue
go into the public bathing beach "Strandbad Starnberg" and watch out for our SUP Club flags
Im Seebad auf der Liegewiese: SUP-Stand mit Boards + türkisen Fahnen
Strandbadstraße 17, Starnberg, Deutschland
a few parking places
very easy to come by train or S-Bahn S6 (Station Starnberg).
Offered by
SUP Club Starnberger See
82319 - Starnberg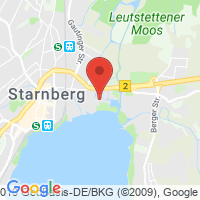 Further information
The versatile water sports stand-up paddling (SUP) is very easy to learn and trains every muscle in the body. To do this you stand on a very large, stable board and move with a long paddle over the water - depending on your mood comfortable-relaxed or fast as fitness training. Contact fears are unnecessary. SUP offers fun for every level of fitness and all ages. It is particularly gentle on the joints and you train balance and coordination while enjoying nature.
If the weather does not allow paddling, we will call you in advance, so please leave a phone number.

TEAM SUP-Board Starboard STARSHIP for up to 6 persons:
The board is a lot of fun !! Once you find a common paddle rhythm, the board goes off very fast. It's also an ingenious bathing island for the break in between, and inspires your creativity: whether you want to use it for doing yoga exercises, to throw each other into the water, or (since we have 2 giant boards) to race - make up your mind!
By the way! Stand up paddling as a voucher is an awesome gift, because you give away a wonderful day at the lake, a new experience that you always like to remember.
3 Reviews
Spaß pur
Lustig und kommunikativ, das richtige für einen Kindergeburtstag (Mädchen ~12)
by Thomas Haupt on 08/03/2018
Sehr viel Spaß und gute Organisation!
Sehr unkomplizierte Buchung, netter Kontakt mit dem SUP Club Team, gute Organisation und freundliche Begrüßung vor Ort.
Wir haben zweimal Kinder Geburtstag mit den Maxi Boards gefeiert, sehr empfehlenswert!
by Nicola Obermaier on 07/19/2018
Super Kindergeburtstag!!! Hat alles prima geklappt, sehr nette Leute vor Ort!
Allen die mal ein etwas anderes SUP Erlebnis haben wollen!
by Susanne on 06/28/2018
know betterbook bettergo better
TripAdvisor Traveler Rating
3 Reviews
More offers from this partner