Parachute Jump in Southern Germany - Tandem Jump near Ulm
During a parachute jump you will jump together with a qualified tandem master experiencing free-fall for up to 12 seconds. After the parachute is opened and the flight stabalized you will be free to view the beautiful landscape. Prior to the jump there is a safety briefing given by the tandem master.
Intoxicating feeling of freefalling during a tandem jump from 4,000 m
View the Alps from a new perspective
Safety briefing from an experienced tandem master
Complete set of equipment included
| | |
| --- | --- |
| Included | 4 hour tandem jump which included a briefing in skydiving, an experienced tandem master, aircraft and fuel, rented equipment |
| Not included | Video from the aircraft |
| Duration | 4 Hours |
| Bring along | Comfortable, sporty and weather-appropriate clothing, sturdy and ankle-high footwear, sunglasses if required |
| Participants | Maximum number of participants is 50 |
| Categories | Skydiving, Extreme Sports |
| Languages | German, English, Russian, Spanish |
| Opening hours | |
| Region | Baden-Württemberg |
| Requirements | Minimum height: 1.25m, general good health |
| Important information | Minors must be accompanied by parents or have the consent of a guardian |
Venue
R&r Airwork GmbH
Deinselsgasse 13, 89073 Ulm, Deutschland
Parkmöglichkeiten vorhanden
Offered by
R&r Airwork GmbH
89073 - Ulm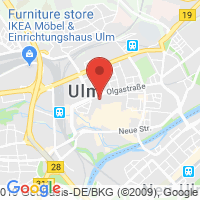 Further information
For the unique feeling of a seemingly endless fall you could try a parachute jump. From 3,000 to 4,000 m you will jump together with your tandem master from a special aircraft, after which follows the free-fall. After a few seconds the parachute will open and you will glide down over the Alpine region.
Before the jump you will be led through a detailed briefing. All tandem masters are certified and have experience of up to 100 jumps. One of them has over 2,000 jumps behind him. Based on many years of experience your safety is guaranteed.
If alone or with a group: A tandem parachute jump is suitable for everyone who wants to try out extreme sports. The maximum group capacity is up to 50 people.
2 Reviews
by Leana Wegener on 10/17/2012
by Charlie Baum on 10/08/2012