Sailboat trip - Saint Raphaël
Take off from Saint Raphaël's Old Port and embark on a sailboat cruise, narrated by Yvan, the wolf of the seas. 
Sail along the coast of the Var and stop for a dip in the Mediterranean. 
Half-day outing.
An introduction to sailing
Stunning scenery
The Estérel's Red Rocks
Includes a "provencal" apéritif
Guaranteed departure as of 3 people or more
Duration
90 Minutes
Bring along

Sunglasses, sun cream.

Participants
From 3 to 10 people.
Categories
Boat Rides, Leisure Activities, Boat Rides in Saint-Raphaël, Boat Rides in Provence-Alpes-Côte d'Azur
Languages
French
Opening hours
Region
Saint-Raphaël, Provence-Alpes-Côte d'Azur
Requirements

Departure guaranteed once 3 people have signed-up.

Important information

This offer is subject to weather conditions. The activity may be modified (a different trail may be chosen), rescheduled or cancelled depending on the climate
After you booked, we will confirm the availability within 24 hours
No charges will be taken if the activity is not available
Present directly your confirmation with your smartphone
Venue
The boat is located in the port (across from the tourism office).
Côté Mer
Quai Albert 1er, Saint-Raphaël, France
There is underground paid parking: Parking Bonaparte, and street paid parking.
The SNCF station and bus station are 300 metres away.
Offered by
Côté Mer
83700 - Saint-Raphaël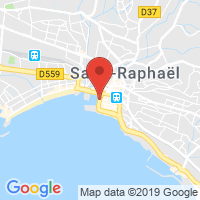 Further information
Once at sea, you will have the chance to discover: 
The Lion islets and the Ile d'Or
The reddish coves of the Estérel 
The spectacular Agay Bay
Access to the crystal-clear waters of natural and deserted creeks for a refreshing dip
We will provide you with scuba masks and snorkels so that you can admire the beds of Posidonia on the sea floor, inhabited by a vibrant fauna.
14 Reviews
Sortie bateau ne correspondant pas à ce que nous attendions
Nous sommes déçu car devions aller à l'Ile d'Or et ne l'avons pas vu. Par ailleurs beaucoup de monde sur le bateau. Plus que prévu ...
by JV on 08/16/2019
Un peu décevant.... beaucoup de monde sur le bateau
Pour des personnes novices et souhaitant un tour rapide.
by Mr Jacques VUITTON on 08/16/2019
PARFAIT !!!!!!
Très bonne expérience à refaire dès que possible un skipper très sympa,passionné a faire absolument
by Patrice Veillard on 06/15/2019