Seaside sailboat outing - Fréjus Port
From the port of Fréjus, embark on a relaxing trip with a fantastic view. Navigate towards the Roches Rouges of the Estérel or Saint Tropez by sailing along the Maures Massif and its assorted bays. 
This trip will give you the opportunity to discover the local geology, geography and history.
Perfect for families
Swim breaks in exceptional creeks
Stunning
Refreshments included
Discover sailing
Geology, geography and history on the agenda
Included

Day outing: Apéritif and meal included
Half-day outing: Refreshments included
Sunset outing: Apéritif offered

Duration
3 Hours 30 Minutes
Bring along

Swimming costume, sun cream, towel, sunglasses
Don't forget a bottle of water for the stroll

Participants
Sailboat with 20 places
Categories
Boat Rides, Leisure Activities, Boat Rides in Fréjus, Boat Rides in Provence-Alpes-Côte d'Azur
Languages
German, English, French
Opening hours
Region
Fréjus, Provence-Alpes-Côte d'Azur
Requirements

Départ garanti à partir de 6 passagers

Les poussettes ne sont pas autorisées à bord, seuls les couffins et les portes bébés sont acceptés

Important information

The offer is subject to weather conditions, and may be rescheduled or cancelled depending on the weather
After you booked, we will confirm the availability within 24 hours
No charges will be taken if the activity is not available
Present directly your confirmation with your smartphone
Venue
The boat is located at dock V, place 705 (next to the captaincy)
La brigante
aire de carénage place V 705, 83600 Fréjus, France
There is paid parking nearby from May to September (bring change : the parking metre charges 8€ per day / 4€ per half-day / 1.5€ per evening)
Agglobus, Line 6 - stop name: Port Fréjus Est, Place Hermes
Offered by
LA BRIGANTE
83600 - Fréjus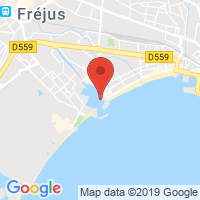 Further information
Day (9am/5pm):
You will navigate towards the town of Saint TROPEZ along the Maures Massif and its numerous bays. We will moor in the spectacular bay of Canebiers for the apéritif, meal and relaxing portion of the day before returning in the afternoon to the port of FREJUS. 
Half-day (9am/12:30pm and 2pm/5:30pm):
The Corniche d'Or ("Golden Ledge"), the Estérel and the Maures Massif offer themselves to you depending on the mood of the Greek wind God, Aeolus. Throughout our course we will convey to you the geological aspects of our region to comprehend the landscape, as well as the geography to help you situate yourself, and a bit of history. A swimming break with refreshments is anticipated during the outing, should the water temperature allow it.
Apéritif and sunset (6pm/9pm) (Mai to September): 
This outing involves a cruise with the wind through the Maures Massif and the Estérel Massif, before mooring by Ile Lion de Mer. An evening swim in the sea and an apéritif while admiring the sunset are waiting for you on the rocks of Roquebrune.
7 Reviews
Belle balade avec un capitaine fort sympathique
Je recommande ce bon rapport qualité prix.
by Alex Farcy on 08/19/2019
Salut. Une sortie bien sympathique. Un historique de la région qui apporte un plus d'intérêt. La voile est vraiment un bien pour un peu de sensations, au contraire d'un moteur. Sortie à faire.
L'absence de coussins qui apportent un petit plus.
L'activité est bien sûr sa totalité.
Oui sans problème, l'accueil y est simple et efficace.
by Pascal SIMOND on 08/12/2019
Apres Midi agréable en Mer
Nous avons passée un après midi agréable sur La Brigante avec le Capitaine et sa femme qui nous ont expliqué beaucoup de choses concernant la Méditerranée..
by Jane on 07/31/2019
know betterbook bettergo better
TripAdvisor Traveler Rating
118 Reviews