Carer for a day in the park - Saint Martin de Vésubie
–30%
Located in the heart of the Mercantour National Park between Saint Martin de Vésubie and Boréon, the Alpha Park invites you to spend a morning in the company of a responsible wolf carer and specialist.
Intimate encounter with wolves
Educational experience
Great value for money
Included

A morning spent with the carers
An afternoon free to explore the park

Duration
1 Day
Bring along

Dress warmly in winter (the park is often snowy).

Categories
Zoos & Animal Parks, Leisure Activities, Zoos & Animal Parks in Saint-Martin-Vésubie, Zoos & Animal Parks in Provence-Alpes-Côte d'Azur
Languages
French
Opening hours
Region
Saint-Martin-Vésubie, Provence-Alpes-Côte d'Azur
Requirements

Enfant accompagné à partir de 8 ans. Enfant seul à partir de 14 ans. La réservation vous sera confirmée après vérification du planning des soigneurs et des soins apportés aux animaux, en cas d'impossilibilté une nouvelle date vous sera proposée.

Important information

Be sure to check the park's opening times before your visit (especially in middle and low season)
The park's hours of operation :
The park is open every day from 10am
From the beginning of April to mid-November
During the low season, the park is open on Saturdays and Sundays, and during the short school holidays
The park is closed from mid-November to mid-December
Venue
Head to the welcome chalet to exchange your confirmation tickets for entry ones.
Parc des Loups - ALPHA - Le Boréon
Rd 89 chalet d'accueil - Le Boréon, Saint-Martin-Vésubie, France
There is free parking available on-site (tends to become congested in high season)
Line NICE / ALPHA, LES LOUPS DU MERCANTOUR from Nice. Contact the network at: 04 93 85 92 22
Offered by
Syndicat Mixte pour le développement de la Vésubie et du Valdeblore
- Saint-Martin-Vésubie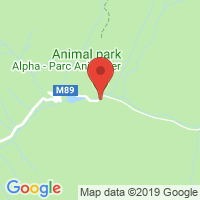 Further information
During your intimate encounter with the wolves, discover all there is to know about the everyday life of a wolf-carer. The world and behaviour of wolves in captivity will no longer hold any secrets for you!
On the agenda for the morning:
Departure towards the Temps des Hommes (Time of Mankind) with one of the carers for a welcome coffee, followed by an exploration of the Temps du Loups (Time of the Wolf), beginning with a tour of the enclosures. 
Presentation and observation of the different Alpha packs, including sessions of medical training.
Preparation of feed rations in the laboratory.
Observation of the Boréon pack's feeding from the entry lock.
Participation in the carers meeting.
Observation of the Erps pack's feeding in the company of the animal carers.
You will have the afternoon free to explore the park. 
7 Reviews
Une expérience inoubliable
Une magnifique matinée « soigneur d'un jour », toute l'équipe s'est montrée à l'écoute. La soigneuse, extrêmement sympathique, passionnée et qui répondait avec enthousiasme à toutes nos interrogations, le cadre hors du temps, et bien sûr, les loups, bien soignés tout en gardant un espace de liberté.. à faire et à refaire :)
by Véronique OSSART on 07/29/2019
Matinée au top
La matinée a été enrichissante, Audrey a vraiment été au top on la sent très passionnée par son travail et les loups. Les voir d'aussi près a été incroyable! Les 3 meutes ont leur propre espace, on ne les sent pas confiner, c'était un soulagement. L'expérience est inoubliable.
by Sophie Um on 07/26/2019
Une expérience inoubliable ! Je recommande
Nous avons eu droit à une visite privée du parc, avant l'ouverture au public. Nous avons pu accéder à des espaces interdits au public et ainsi approcher les loups de plus près. Notre soigneur, Mathieu, était fort sympathique. Il a répondu à toutes nos questions durant toute la matinée et nous a fait découvrir son quotidien. J'ai adoré ! C'était super et très enrichissant. Je recommande !
by Jennifer VENTURA on 07/25/2019
More offers from this partner