Snorkeling - Boulouris Port (Saint-Raphaël)
Equipped with a wetsuit, a mask, a snorkel and flippers, navigate the Mediterranean fauna and flora with the help of an experienced guide.
Water-based activity
Fun experience
Perfect for families
Venue
Europlongée
2170 Route de la Corniche, 83700 Saint-Raphaël, France
Free parking is available.
Agglobus, line 5 - depart from the Saint-Raphaël bus station and get off at the "Les Marguerites" stop.
Offered by
Europlongée
- Saint-Raphaël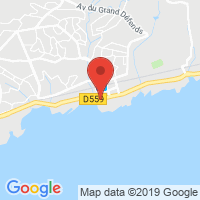 Further information
Put on your free diving equipment (neoprene wetsuit, flippers, mask, snorkel) and navigate the water surface to explore and observe the rich marine fauna and flora right beneath the surface. 
Subject to your level and desire, try out freediving in a controlled and safe environment to the frequency, depth and duration of your choice.
The activity takes place in an area specifically delineated for underwater recreation.
1 Reviews
C'était génial. ...une équipe très sympa
Équipe très sympa et beaucoup de poissons ...impression de nager ds un aquarium à certains moments
by Cecile BECHET on 08/02/2019
More offers from this partner