On this bike tour, you will be able to see many of the highlights of the Spanish city of Seville in the region of Andalucia. Learn more about the ancient Roman settlement and how the city developed under many different civilizations.
Visit highlights including the Cathedral of St Mary, City Hall, Metropol Parasol and the neighborhood of Triana
Learn more about the rich history of Seville
English speaking tour guide
Venue
Naturanda Shop
Naturanda Turismo Ambiental, Calle Alfonso XII, Sevilla, Spanien
Offered by
Fado & Food Tour
41001 - Seville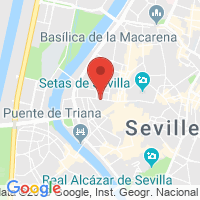 Further information
The Andalucian city of Seville has been settled as early as the Roman period before the Moors developed the city to give it a medieval character. Seville was then conquered by Ferdinand III of Castille in the 13th century where it developed into a Christian city.
You will cycle around this charming city where you will have the opportunity to stop and learn more about the different landmarks and their significance. Visit the Giralda and the Alcazar which were originally Moorish constructions yet assumed a new identity under Castillan and later Spanish rule.
Other important sights include:
Cathedral of St. Mary
City Hall
Palace of San Telmo
Metropol Parasol
General Archives of the Indies
Plaza de España
Torre del Oro
Chapel of El Carmen
0 Reviews
Unfortunately there are no reviews available. Be the first to review Seville Bike Tour.