Segway Tour through Nuremberg - Northern Old CIty Tour
This Segway tour takes place in Nuremberg's wonderful old city. You will learn all about the history and the sights of this Franconian city. Your professional tour guide will give an introductory presentation and provide you any help if need be.
Discover places like the Kaiserburg, Herrenschießhaus, and the Hauptmarkt
Introduction to the Segway from a professional tour guide
See the nicest places in the old city and the history of Nuremberg from a new perspective
Included
1.5-hour Segway tour through Nuremberg including introduction, tour guide, rental helmet
Duration
1 Hour 30 Minutes
Bring along
Valid driver's license and ID, weather-appropriate clothing, sturdy shoes
Participants
Tour takes place with 2-15 participants
Categories
Segway, Driving, Segway in Nuremberg, Segway in Bavaria
Languages
German, English
Opening hours
07/21/2015 – 10/31/2025
Daily 09:00 - 18:00

Region
Nuremberg, Bavaria
Requirements
Minimum age: 15, at least a moped driver's license, weight: 45-118 kg (99-260 lbs.)
Venue
The meeting point is in front of the bridge at the Cinecitta movie theater.

Hintere Insel Schütt 5, 90403, Nürnberg, Deutschland
Parking available
U2: Wöhrder Wiese stop 5 minutes away on foot
Offered by
easy2move GbR
90403 - Nuremberg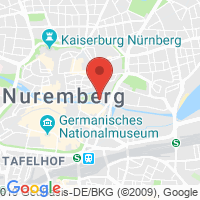 Further information
The Segway tour starts on Schütt Island. A professional guide will conduct an introduction to the Segway. During the ride you will pass by the most beautiful and history-rich sights in the city, and you will also see the many architectural works from throughout Nuremberg's history.
Tour route:
Herrenschießhaus
Laufer Schlagturm
Pellerhaus
Kaiserburk
Tiergärtnertorplatz
Weißgerbergasse
Weinstadel
Max Bridge
Unschlittplatz
Trödelmarkt
Hauptmarkt
Hans-Sachs-Platz
The guide, who is very familiar with Nuremberg, will tell you all sorts of important facts about the sights and places you will visit. In addition, there will be plenty of time to take a break and enjoy the tour.
2 Reviews
Alles war perfekt und sehr gut erklärt!
Es hat alles super geklappt! Ich würde sie gerne Freunden weiterempfehlen.
by Gerhard Prestle on 05/27/2019
Geburtstagsüberraschung
1)Nürnberg von einer anderen Sichtweise erleben- super 2) keine Schwierigkeiten bei der Buchung, konzentration ist gefragt. 3) Freunde die mal was anderes ausprobieren wollen.
by Heidi Popp on 08/11/2017
More offers from this partner