SEG2GO // Segway-Tour: Berlin@Night
Is there a better way to start the weekend than spending the evening on a Segway cruising through the warm summer night of Berlin? We offer this very popular tour from May until September. Berlin@Night. Try it out and you will be thrilled!
A rather flexible tour
Unique night tour of Berlin
Many world-famous sights
Small groups
Experienced tourguides
Relaxed atmosphere in the evening hours
Perfect start into the weekend
Try something new :-)
Included

Guided segway tour including instruction and training, a protective helmet, a rain poncho, a segway for the tour

Not included

Partly comprehensive insurance (with an excess of 250,- €) for 4,- €. A fully comprehensive insurance (without excess) for 8,- €.

Duration
2 Hours
Bring along

Valid identity card or passport

Tip: Comfortable clothes and rather flat shoes, "high heels" are not so suitable ;-)

Participants
Min participants: 2
Languages
German, English
Opening hours
Region
Berlin, Berlin
Requirements

Age 16 - 65 yrs.
Weight 45 - 115 kg
A valid car or at least a moped license
No adverse health effects

Important information

Je nach Tour-Guide und aktuellen Gegebenheiten wie Straßensperrungen oder bedingt durch Großveranstaltungen können die Tourstrecke oder der Tourverlauf variieren.
Venue
Our office and shop is located right from the SCANDIC hotel
SEG2GO - Segway Tour Point Berlin
Gabriele-Tergit-Promenade 21, Berlin, Deutschland
car park
U2: Mendelsohn-Bartholdy-Park oder S1, S2, S25, S26: Potsdamer Platz
Offered by
SEG2GO Segway Touren Berlin & Potsdam
10963 - Berlin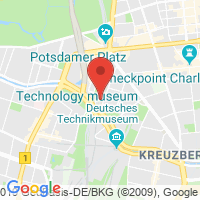 Further information
A special Segway tour at night and perfect as an after-work event. Berlin looks awesome at night (some folks say it looks much nicer than during the day). We will take you to some hotspots, interesting places and show you a city that never sleeps - let yourself be surprised; this Segway tour is the perfect start into Berlin's nightlife!
Hotspots and places which are beautifully illuminated in the evening like the governmental district, the Brandenburg Gate, Potsdamer Platz, Sony Center and the Gendarmenmarkt with its two Domes and the Konzerthaus Berlin and parts of the Berlin Wall. If there are any wishes or ideas of what you like to see please let us know before the tour starts, maybe we can consider them into our tour - your tour. On the way lots of information about the places will be given and of course we will provide you with some addresses about where to go to for wining, dining and dancing.
4 Reviews
Tolles Erlebnis mit super Guide
Diese Tour ist sehr zu empfehlen. Der Spaßfaktor ist sehr hoch. Die Segway sind auch ohne Vorkenntnisse nach einer zeitlich ausreichenden Einweisung leicht zu nutzen. Trockenes Wetter und angenehm warme Temperaturen sind für die Tour deutlich von Vorteil. Abends kann es sehr frisch werden. Kleinere Gruppen (wir waren 4+Guide) sind mE von Vorteil und versprühen dadurch einen Hauch Individualismus.

Die Tour konnten wir selbst aussuchen, folgten aber gern dem Vorschlag des Guide, welcher als gebürtiger Berliner deutlich zum Gelingen beitrug. An verschiedenen Punkten wird entlang der Strecke (Potsdamer Platz - Mitte - Prenzlauer Berg und durch das Brandenburger Tor zurück) auf dem Segway kurz pausiert, damit verschiedenste politische, geschichtliche oder kultuerelle Informationen an die Tourteilnehmer weitergegeben werden.

Die Buchung der Tour erfolgte direkt im Internet und war dabei intuitiv, leicht und von der Nutzeroberfläche fehlerfrei. Bezahlmöglichkeit Paypal usw. ist dabei - natürlich - möglich. Sehr schön ist auch, dass wir dann noch per sms - wenn eine Kontakttelefonnummer hinterlegt ist - an den abendlichen Termin erinnert wurden.

Fazit : Mit unserem Guide eine absolute runde Sache - eine sehr schöne Tour. Wir waren nicht das letzte Mal da...




by Wilko Wegner on 08/08/2019
Wir hatten jede Menge Spass mit den Teilnehmern und dem Guide, tolle Tour mit vielen Tipps!
Sightseeing und flexible Ortswahl, die Gruppe war klein aber toll, wir hatten jede Menge Spass.
Ich empfehle dies allen Freunden und Bekannten weiter, die nach Berlin kommen, mir wurde es selbst empfohlen über seg2go zu buchen - danke!
by Nicole on 08/02/2019
Festival of lights
Ich fühlte mich etwas unsicher auf dem Gehweg zu fahren und nicht auf der Straße. An vielen Stellen war es sehr voll. Es war am Freitag viel los beim Festival of lights auf den Gehwegen. Die Kommentare der Fußgänger waren nicht sehr fein, dass nun auch noch fünf Segways durch die Menge fuhren (wenn auch langsam). Strecken auf Straßen halte ich für stressfreier, als Strecken auf Gehwegen. Nicht alle Fußgänger haben uns als Gruppe zusammen vor gelassen, sondern haben sich zwischen uns geschoben.
Ansonsten war es aber ein schönes Erlebnis und hat uns viel Spaß gemacht.
by Sabine Willkommen on 10/15/2018
know betterbook bettergo better
TripAdvisor Traveler Rating
264 Reviews
More offers from this partner