SEG2GO // Big Segway-Tour Berlin
An incredible sightseeing tour through Berlin in 2.5 hours. Highly recommended!!
A Segway sightseeing tour that will let you discover some of Berlin's most spectacular highlights. Personally guided tours. No audio guides, headsets or pre-recorded audiotapes! Our guides know the city and its history by heart. They're always on hand to provide helpful tips and answer your questions. Photos may of course be taken at any stop.
Perfect starter tour with lots of given information about Berlin
Discover more than 25 famous sights and places in a short time
Small groups
Very good and experienced guides
Personalized tour, no audio guides
Combination of history, culture, and driving fun
Included

2 hours 30 minutes guided Segway-Tour including training, helmet, segway, tourguide

Not included

Comprehensive collision damage incl. third party liability insurance can be additionally booked for 4,- Euro (250 Euro excess) or for 8,- Euro (0 Euro excess)

Duration
2 Hours 30 Minutes
Bring along

Tip: Comfortable clothes and rather flat shoes, "high heels" are not so suitable ;-)

Participants
Min participants: 2
Languages
German, English
Opening hours
Region
Berlin, Berlin
Requirements

A valid car or at least a moped license

Age 16 - 65 yrs.

Weight 45 - 115 kg

Valid identity card or passport

No adverse health effects

Important information

Je nach Tour-Guide und aktuellen Gegebenheiten wie Straßensperrungen oder bedingt durch Großveranstaltungen können die Tourstrecke oder der Tourverlauf variieren.
Venue
Our shop and office is located right from the SCANDIC hotel.
SEG2GO - Segway Tour Point Berlin
Gabriele-Tergit-Promenade 21, Berlin, Deutschland
car park
U2: Mendelsohn-Bartholdy-Park oder S1, S2, S25, S26: Potsdamer Platz
Offered by
SEG2GO Segway Touren Berlin & Potsdam
10963 - Berlin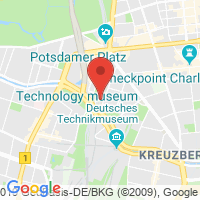 Further information
Amazing roundtrip through Berlins inner city discovering worldfamous points of interests like the former Checkpoint Charlie, the "Topography of Terror" with 200 meters of original parts of the Berlin Wall, an old GDR Watch Tower which fell into oblivion, we discover the Potsdamer Platz and the Holocaust Monument, we will stop in front of the well-known symbol of Berlin, the Brandenburg Gate and explain the newly built Governmental District to you including the Federal Chancellery of the Republic of Germany, the Commission Building and the Reichstag. Furthermore we visit some elder parts of Berlin including the New Synagogue, discover the unique UNESCO world heritage "Museum Island" (incl. the Bode Museum, Pergamonmuseum, New Museum and Nationalgalerie). On our way back to the office we pass by the Old Museum, see the biggest church in Berlin, the Berlin Dome, cross the famous place where the Nazi book-burning took place in 1933 and will see the Gendarmenmarkt with the marvellous French and German Dome. Additionally we pass by the Tiergarten and the river Spree and see lots of famous and hidden buildings and places in Berlin which can not all be mentioned - THE perfect overview and start into your Berlin trip!
Instruction, driving and safety training is included. Friendly and professional tour guides are on hand to help and guide you throughout the tour. Depending on the guide and the current traffic situation or due to mayor inner city events the tour route might vary.
33 Reviews
sehr interessante Tour, top Guide
Die Kreuzbergtour war sehr interessant, wir haben viele Informationen bekommen und Orte besichtigt, die wir alleine wohl nicht gefunden hätten. Klare Empfehlung!
by Sarah on 08/14/2019
Tolles Berlin-Highlight!
Bei dieser Segway Tour blieben keine Wünsche offen. Schon die Buchung völlig unkompliziert und selbsterklärend. Unser Guide Christian war sehr geduldig und gab uns zu Beginn eine ausführliche Einführung zu dem Segway,welches wir zum allerersten Mal fuhren. Anfängliche Unsicherheit wich bald dem genussvollen Fahrspaß! Christian war ein wandelndes Berlin-Lexikon und wußte noch viele Dinge zu erzählen,die uns trotz mehrmaliger Berlin-Besuche nicht bekannt waren. Daher empfehle ich die 3-stündige Tour gerne auch an Berlin-Kenner. Der Tourverlauf ist sehr abwechslungsreich und kurzweilig gestaltet. Sehr sehenswert und informativ,-die Stunden vergingen wie im Flug. Auch,daß wir eine sehr kleine Gruppe waren und trotzdem starteten machte die Tour sehr angenehm und es blieb immer wieder Zeit für eigene Fragen. Daher kann ich nur Danke sagen für ein gelungenes Highlight. Sehr empfehlenswert! Ein sympathisches Team, sehr engagiert. Bestimmt nicht unsere letzte Tour.
by Silke on 08/04/2019
Gute und interessante Tour
Die Tour war sehr interessant und die Stopps waren auch gut gewählt. Es war ein total interessantes Ereignis das erste Mal auf einem Segway zu stehen. Ich würde es jedem empfehlen, der Lust auf eine etwas andere Stadttour hat und viel Spaß dabei haben mag.
by Kreß on 07/30/2019
know betterbook bettergo better
TripAdvisor Traveler Rating
264 Reviews
More offers from this partner