Segway Parcour with Subsequent Snack
Participants get to let loose on their Segways on a private parcours. In the process obstacles with different difficulties have to be overcome. Subsequently every participant will receive either a hearty snack or coffee and cake.
Diverse Segway parcours
Supervision by experienced trainers
No minimum age, no driver's license necessary
Included
3-hour Segway event, approx. 1 hour of which is spent driving your Segway, helmet and safety vest, snacks and coffee and cake
Not included
Beverages
Duration
3 Hours
Bring along
Bicycle helmet, if available
Participants
Groups of 5 to 10 participants, individual bookings welcome
Categories
Segway, Driving, Segway in Lünen, Segway in North Rhine-Westphalia, Segway in Ruhr
Languages
German, English
Opening hours
10/16/2017 – 12/31/2020
Daily 13:00 - 19:00

Region
Lünen, North Rhine-Westphalia, Ruhr
Requirements
Weight between 45 kg and 118 kg
Venue
Starting location is agreed upon with the provider after booking

Hafenstraße 44532, Lünen, Deutschland
Offered by
Do Fun
44532 - Lünen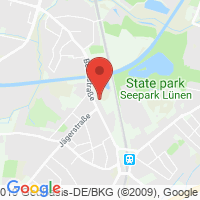 Further information
This Segway event promises variety and fun in summer and in winter. In good weather conditions the parcours is built in the open air. If the weather should not be be playing along, the parcours are built indoors instead.
The event lasts for a total of 3 hours. Participants will spend up to 1 hour zipping around on their Segway. Various obstacles have to be overcome on the modern vehicle by shifting one's weight. The event is under the supervision of professional trainers and first time drivers will receive a short briefing in the function of the Segway. Subsequently hearty snacks such as french fries, curry sausages and burgers but also tasty cake with coffee will be served.
0 Reviews
Unfortunately there are no reviews available. Be the first to review Segway Parcour with Subsequent Snack.
More offers from this partner