Sea Caving in Mallorca - Cova de coloms
–5%
Sea caving is the perfect way to cool off out of the sun with friends and family. Cova de Coloms is one of the only sea caves that you can swim into here in Mallorca, whilst you don't have to go under the water it is the only way to venture into this magical cave.
Amazing cave system of Cova de coloms
Transfer from and to the hotel
Stunning panoramic view of the coastline and beach
Adventure sea cave also for children from 12 years who can swim
Perfect introduction to the underground world of cave exploration for everyone
High safety standards and fun for professionals and beginners
| | |
| --- | --- |
| Included | 3,5 hours sea caving, safety equipment, wetsuit, life jacket, helmet, headlamp, insurance, local, professional, certified guide, we pick you up from Mallorca in almost every hotel and bring you back |
| Not included | Essen und Trinken |
| Duration | 3 Hours 30 Minutes |
| Bring along | comfortable clothes for hiking, cap, sturdy shoes, towel, bathing suit, suncream, water mi. 1,5l, a snack, for safety reasons, we do not recommend bringing jewelry or valuables. You are welcome to bring a camera, but it must be waterproof. Experience Mallorca is not liable for any loss or damage. |
| Participants | Tour takes place from 2 persons. The groups are rather small. Max. 8 persons per guide. |
| Categories | Extreme Sports, Leisure Activities, Extreme Sports in Palma, Extreme Sports in Illes Balears |
| Languages | German, English, Spanish, Polish |
| Opening hours | |
| Region | Palma, Illes Balears |
| Requirements | Minimum age: 12 years, no experience in caving is required, but you must be able to swim 200 meters in the sea to get to the cave. You should not be afraid of the water, even though all participants wear buoyancy vests, you must be in good physical condition and declare any physical illnesses. |
| Important information | • This activity depends on the weather conditions. The tour will not take place if the weather conditions make it impossible. Alternative: if the tour is canceled, we try to offer an alternative appointment. |
Venue
Please contact reseller after booking to arrange hotel pickup. Contact data is on the online-ticket.

Palma, Spanien
Offered by
Experience Mallorca
- Palma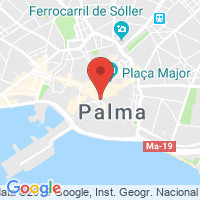 Further information
Mallorca is famous for its beautiful caves, such as the Caves of Drach and the Caves of Arta. With us you can discover untapped sea caves in the great nature that have nothing to do with the tourist show caves. We take you to a spectacular cave tour in Mallorca that you will never forget!
Cova de coloms is one of the only sea caves that you can swim into in Mallorca, whilst you don't have to under the water it is the only way to venture into this magical cave. Sea caving is the perfect way to cool off out of the sun with friends and family.
After only 30 Min. hike, we get to a sea cave, that we access by swimming 200m to the entrance, where your experienced guide will lead you through this maze-like structure and underground lakes to the heart of this amazing caving adventure.
You don't need to have done caving or potholing before as these vertical cave systems are a perfect introduction to the underground world of caving. You don't have to go under the water so no scuba equipment is making this the perfect adventure for beginners and families. This cave tour is suitable for children who can swim well. Make an unforgettable family trip while you are in Mallorca! This tour is perfect introduction to the world of cave exploring and perfect adventure experience for beginners and families.
Cave in Sa Cova dels Coloms to reach the pinnacle of your holiday in Mallorca!
For our cave tour, we provide the necessary safety equipment, including wetsuit. If you prefer to explore dry caves, take a look at our Land Program Speleology. Both cave tours can be combined with other activities. Or combine our sea cave research with our wild coasteering tour and enrich your holiday with two exciting activities!
11 Reviews
| | |
| --- | --- |
| Overall rating | |
| Value | |
| Fun factor | |
ein absolutes Muss
Die Tour war absolut perfekt.
Die Buchung war über Regiondo ganz unkompliziert. Wir wurden von unserem Guide vom Hotel abgeholt und auch wieder zurück gefahren.
Es ist beeindruckend,was man in dieser Höhle zu sehen bekommt. Fern ab vom Massentourismus. Man sollte so 20 bis 30 Minuten wandern und einigermaßen schwimmen können. Durch den Neoprenanzug erhält man genug Auftrieb, um die Strecke gut zu schaffen. Es lohnt sich auf jeden Fall.
by A. Linde on 08/15/2019
Eines der besten Dinge das wir je gemacht haben!
Die Seehöhlentour war einfach der Hammer! Die Buchung lief super einfach ab und unser Guide war echt ein cooler Typ, der sehr viel Rücksicht auf jeden Einzelnen in der Gruppe genommen hat. Wir waren 5 Mädels und alle körperlich ziemlich fit, aber das sollte man bei dieser Tour auch eindeutig sein. Das Klettern in der Höhle ist an manchen Stellen echt herausfordernd und vorallem das Schwimmen bis zum Eingang der Höhle verlangt einem so einiges ab. In starkem Wellengang im Meer muss man schon eine ziemlich weiter Strecke zurücklegen, was trotz Schwimmweste nicht gerade leicht ist. Aber die Anstrengung lohnt sich zu 100%. Das innere der Höhle ist unglaublich schön! Für Leute die gerne Adrenalin mögen gibt es in der Höhle die Möglichkeit von ca 7 Metern Höhe ins glasklare Wasser zu springen. Wir waren alle 5 begeistert von der Tour und würden Sie jedem sofort weiterempfehlen!
by Isabelle Kirn on 06/11/2019
Wahnsinns Tour. Ein riesen Spaß
Trotz der kleinen Wartezeit am Anfang hat sich die Tour mehr als gelohnt! Wir hatten eine schöne Wanderung zur Höhle mit einem tollen Blick über die Klippen.
In der Nähe der Höhle hatten wir die Möglichkeit über einen kleinen Strand zum Eingang der Höhle zu schwimmen oder von einer Klippe zu springen. Wir haben den Sprung gewagt und es war atemberaubend. Die Höhle beherbergt viele unterirdische Seen mit Türkisfarbendem Wasser. Eine unbeschreiblich schöne Tour durch die Natur Mallorcas!
by Lena Kruse on 06/02/2019
know betterbook bettergo better
TripAdvisor Traveler Rating
382 Reviews
More offers from this partner