This tour takes you to the most beautiful buildings in Saarbrücken. You will have the opportunity to have an inside look at the Ludwig Church. This tour is available in 4 different languages.
Tour of the most important sights
Visit to Ludwig Church
Learn about the city's history
Available in German, English, French, or Italian
Venue
The exact meeting point will be agreed upon with the provider of the tour.
Rathaus Sankt Johann
Dudweilerstraße 4, 66111, Saarbrücken, Deutschland
Parking available
Offered by
Gästeführung & Reiseleitung Hess
66111 - Saarbrücken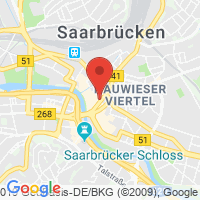 Further information
There are many things to discover for tourists and residents in Saarbrücken. The capital of Saarland is the political, economical and cultural centre of this German state and hosts a variety of historical architecture.
During this 2 hour city tour, a local guide will show you the most beautiful buildings in the city. These include the Saarbrücken State Theater, the Saarbrücken Palace, and the Old Town Hall. There you will learn all about the 1,000 year history of the city. Another highlight is the visit inside the Ludwig Church.
Tours are available in German, English, French, or Italian and are divided into small groups. The guide shares the culture, history and regional life of Saarbrücken in a friendly and humorous way.
0 Reviews
Unfortunately there are no reviews available. Be the first to review Saarbrücken Guided Tour.
More offers from this partner