Romantic igloo night for two
The romantic igloo accommodation is a magical experience for connoisseurs and adventurers with a passion for wellness. Mountainiglu at the Speikboden offers everything you need for an adventurous night. A lot of nature, wellness, romance and excellent food.
once in a lifetime adventure with breathtaking mountain panorama
Exciting outdoor experience for romantics
individual care by trained igloo guides
Included

welcome drink
use of tub and sauna
rental of snowshoes (marked snowshoeparcours)
typical South Tyrolean dinner at the igloo restaurant (please let us know if you have any special wishes)
water service during the stay (warm/hot; in a thermos)
rental of headlamps
1 Piccolo Prosecco
overnight stay in an igloo for two
thermos for the night
warm expedition sleeping bag with hygieneinlay
breakfast at the "Bergrestaurant" Speikboden

Not included

rental of bathrobe and towels
cable car ticket
beverages

Bring along

small bag
warm winter wear (skiwear)
warm shoes (e.g. snowboarding shoes or soft boots; please note that skiing boots are forbidden inside the igloos)
warm, high qualitiy gloves (ideally 2 pairs) and warm headwear
2 pairs of long and dry socks
long underwear or pjs for the night
flashlight or headlight
towels and bathrobe (also available for rent)
personal items
some euro cash (e.g. comsuption at the bar)

Categories
Diving Courses, Water Sports, Diving Courses in Costa di Tures, Diving Courses in Trentino-Alto Adige
Languages
German, English, Italian
Opening hours
Region
Costa di Tures, Trentino-Alto Adige
Requirements

minimum age 8 years, normal physical constitution

Important information

Mountainigloo-village at the "Bergstation" Speikboden, Drittelsand, Sand in Taufers/Campo Tures. Last ascent with the cable car at 16:00 p.m.
Venue
Ascent with the cable car
Bergbahnen Speikboden, Drittelsand, Sand in Taufers.
Località Costa di Tures, 7, 39032 Campo Tures BZ, Italien
free parking
Bus stop: Drittelsand/Speikboden
Offered by
Kreaktiv KG
39032 - Costa di Tures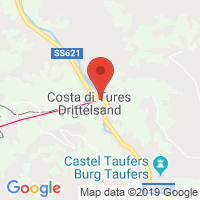 Further information
The romantic night in an igloo is a truly adventurous experience. Near Sand in Taufers/Campo Tures (the main town in the Ahrntal) you take the lift to Speikboden. At the Igloo village a welcome drink awaits you. A professional igloo guide will lead you to your igloo.
The visit of the mountain sauna and a warm bath in the South Tyrolean "Holzzuber" (wodden tube) are pleasant and refreshing for your body and mind. In the evening you may visit the igloo restaurant. There will be a multi-course evening menu with local specialties. At the next day a rich breakfast awaits you in the "Bergrestaurant" (restaurant at the mountain station).For the hot night in the ice you will naturally get a cuddly soft down sleeping bag with Hygiene-Inlay. The igloos are fully equipped with sheep wool blankets, furs and lanterns.
35 Reviews
Disappointing Arhntal Igloo experience
Overall the night in the igloo was a memorable experience, however, there were significant shortcomings from the Kreaktiv KG Team.
We had arranged to meet one of your staff at 3pm at the bottom of the Speikboden lift, at their suggestion, and unfortunately they did not arrive, which we found extremely frustrating.
This was further exaserbated by no response by phone or text from either the member of staff who had been our main point of contact, or from Kreaktiv TIV team, when we attempted to call many times.
When we decided we could wait no longer, we took the lift to the Mittelstation only to find that by this time the slope lifts had stopped working and we had to drag our cabin bags, skis, boots etc to the igloo area
Also the pictures on the advertisement showed an attractive traditional igloo design, when in reality the igloo bore no resemblance to what was shown. This was very disappointing, and is misleading, and probably illegal. The igloo experience was an expensive option that turned out to be the most frustrating part of our whole Ahrntal experience, all of which could easily have been avoided by your staff either arriving as previously arranged, or by timely communication when required with the Kreaktiv team.
I look forward to your response, Stephen Campbell
by Stephen Campbell on 04/20/2019
Hi Stephen, It's a pity to read your review. Part of things are not true. We don't meet our guests at the cash point, and I even texted you to take the gondola at 3pm so that you would have enough time to enjoy the day on top of the mountain, and to reach our village in time. See screenshot of our conversation attached. What should not happen is that no one answerd the phone. I apologize for that. You are right. Our village is partly different than on some of the photos. This is part of the evolvement process, we try to get better every year. We are getting bigger and therefore the composition of the igloo village got adapted. That makes it more convenient to work for us and does not affect the quality of the service. This is far away from illegal. I hope you've enjoyed the wine our staff had prepared for you and I hope you'll enjoy your Easter holidays. Günther
Coole Location, sehr freundliches Team(aber zu wenig) und leider nicht ganz so gut organisiert
Hatten ein wirklich tolle Zeit, an einem sehr coolen Hotspot für Iglu.
Das wirklich außerordentlich gute 3 Gänge Menü war sehr gut und üppig!
Die Jungs waren echt bemüht gute Gastgeber zu sein und machten einen tollen Essens Service!
Leider gibt es auch zu erwähnde Verbesserungsvorschläge.....
- die zum Teil fast nicht zu schließenden
Iglu Türen, ohne Schlüssel sind bedenklich!
- das nicht für alle Leih Bademäntel da waren, das geht einfach nicht, wenn man es schon anbietet!
- auch das unterschiedlichen Thermosflasche Größen ausgeteilt worden sind, sollte nicht passieren, .. sollte für alle gleich sein!
- und die tolle Idee mit dem Schneeschuh Wandern sollte evtl. mit Guide angeboten
Werden und länger dauern und das Abendessen dann erst gegen 19.30 beginnen, das langt völlig bei so ein tollen und langen Iglu Nacht und ist in dem Preis auf alle möglich!
Aber wir würden trotzdem, es auf alle Fälle weiter empfehlen, hoffen aber, das die Verbesserungsvorschläge gehört werden !

by Christian Dennerl on 03/16/2019
Ein einmaliges Erlebnis
Es war wirklich eine super Idee hier eine Nacht zu verbringen.
by Klaus-Martin Fester on 03/11/2019
know betterbook bettergo better
TripAdvisor Traveler Rating
9 Reviews
More offers from this partner