Public Tour through the Inner City of Dresden
–5%
This circuit through the "historical must-see area" is both funny and informative. You will pass by the Zwinger (lit. the kennel), to the Semperoper then on to the castle area and Alt- und Neumarkt as well as to the Sophienkirche.
Tips, discounts and reductions for further low cost accommodations
Virtual city map for free
Competent and funny tour guide
Free of charge for Dresden locals
Venue
Gelber Aufsteller an der Brücke zum KRONENTOR/ZWINGER
Ostra-Allee 9, 01067 Dresden, Deutschland
Offered by
SIMA
01067 - Dresden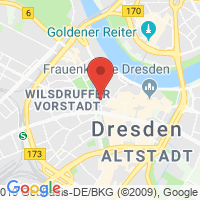 Further information
With heart, brains and a lot of humor through the inner city of Dresden - this circuit is targeted towards everybody. The experienced tour guide will lead you through the city, providing you with insider tips and remaining at your disposal for any type of question you might have.
The tour starts in Postplatz and goes through the Zwinger; There you will receive detailed information redarding the architecture, the historical background and the museums housed there with their manifold exhibitions. Additionally, the circuit passes by:
Theater area with the Semperoper
Castle place
Fürstenzug
Neumarkt with the Frauenkirche
Town Hall on the Market Square
Stallhof
The tour comes full circle at the Postplatz, next to the Sophienkirche. Of course your guide will also provide you with information and historical background about other landmarks and about the city of Dresden in general.
1 Reviews
Freundlich, individuell und informativ
Eine Führung ohne Blabla. Sehr viele interessante Informationen auch mal abseits der Themen. Sehr individuell und freundlich auf unsere Bedürfnisse zugeschnitten.
Danke. 'Gerne wieder
by claudia K. on 05/29/2017
know betterbook bettergo better
TripAdvisor Traveler Rating
21 Reviews