Santorini Highlights Private Tour
Embark on this private tour of Santorini with just yourself, your party and your tour escort. After getting picked up from your hotel, port or airport, get the chance to see the most well-known places on Santorini Island by luxury minivan or minibus, guided by your personal driver and local guide.
Visit to the main attractions of the island
Private Luxurious Mini Van
Local Host
Duration
5 Hours or 7 Hours
Categories
Sightseeing Tours, Explore & Discover
Languages
English, Italian, Spanish
Opening hours
02/01/2019 – 12/31/2020
Daily 08:00 - 20:00
02/01/2019 – 12/31/2020
Daily 08:00 - 20:00

Venue
Pick up place and time will be agreed upon confirmation
Fira Santorini
Αγίου Μήνα, Θήρα 847 00, Ελλάδα
Offered by
NST Travel Santorini
847 00 -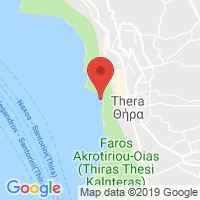 Further information
After reaching Santorini, meet your local guide to begin your private sightseeing tour.
Your host will have an itinerary set for you, however you may change the schedule as you wish. For your first stop, the guide will suggest a trip to Prophet Elias Mountain, the highest point in Santorini. There, you will have a panoramic view of the island as well as the Prophet Elias Monastery. Next, head to the Akrotiri Excavations and admire the ruins of the Minoan civilization. The Red Beach is next to the excavations and open for you to take photos.
Once you have finished your visit to the Red Beach, make a short stop in the black sand of Perivolos, where you may relax. Then, drive to Oia, with a short stop at a Santorini Winery along the way. At the winery, you will have the opportunity to taste local products, including the famous Visanto wine. Move on to the Blue Dome church in Firostefani, known for it's wonderful views of the volcano. Finally, arrive at the northern tip of Oia and enjoy sightseeing, grab some lunch, or shop for some souvenirs.Transfer back to your hotel, airport or port for your departure.
2 Reviews
Upgrade from average excursion
It took a little back and forth online but I eventually booked our September tour in May. With 5 ships in port that day, this was a delightful exception to the average shore excursion. Our family took the cable car and met our guide Alex. We were able to enjoy the beautiful island in a way that fit our family. Having a 2 & 4 year old does not make traveling easy, however, thanks to Alex and our driver, we had a spectacular day!❤️
by Tamara Bertolini on 10/13/2018
Sweet way to see Santorini
Once making it up the 600 steps, our guide Alex and driver gave our family a delightful intimate tour of this beautiful coastal city and countryside. Great picture opportunities at every stop. He went at our pace since we had a 2 year old and a 4 year old touring with us. We received great information and ate some wonderful Greek food. A definite must-do if you have a day to spend in Santorini.
by Tamara Bertolini on 09/24/2018
know betterbook bettergo better
TripAdvisor Traveler Rating
242 Reviews
More offers from this partner