Explore the oldest sights of the former Jewish ghetto and the Old Town of Prague. Learn about the history of Jewish people in the Czech lands and see the oldest preserved synagogue in the whole of Europe! Admire the stunning architecture of the Old Town Square and Astronomical Clock.
Charles Bridge with spectacular view of Prague Castle
Jewish Quarter and its most important monuments – the Old New Synagogue, Old Jewish Cemetery and much more
Old Town Square with its famous Prague Astronomical Clock
Venue
In front of the Charles Bridge, at Křižovnické square, by the Statue Charles IV.,our guide will hold orange umbrella.
Pomník Karla IV., Staré Město, Praha-Praha 1, Česko
Tram station Staroměstská- tram number 2, 17,18, Subway station Staroměstská- line green
Offered by
Fun in Prague
- Prague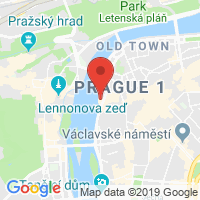 Further information
Start the tour in the very heart of the city – by the Charles Bridge – and enjoy one of the most beautiful views of Prague panorama. As you head to the old Jewish Quarter, once the largest Jewish settlement in Europe, you learn about turbulent history of the Jewish people in the Czech lands. The Prague Jewish Quarter with its six historical synagogues, a Jewish Town Hall, magical Old Jewish Cemetery and the unique genius loci is one of the best preserved in the world. Admire an imposing frontage of the Old New Synagogue - the oldest extant synagogue in the whole of Europe – according to one of the legends the resting place of the legendary Golem, the predecessor of Frankenstein's monster. Walk in the footsteps of Franz Kafka and feel the environment which had shaped this writer who is regarded as one of the most influential authors of 20th century. Your guide will unveil some of Jewish Town's old stories and legends connected to this specific part of old Prague.
Then continue to the Old Town Square, an old marketplace, originally built in the 11th century. It is only here where the true heart of Prague beats - on the most beautiful square in Prague, dominated by the splendid gothic Church of Our Lady Before Týn, monumental Church of St. Nicholas and the Old Town Hall. As the hour approaches, you get to see one of the Prague's highlights – the famous medieval Prague Astronomical Clock - which has been measuring time for more than six centuries. Our guide leads you through winding medieval streets, lined with pictoresque buildings and churches and lets you taste some more of countless sights and monuments of the Old Town, be it Mozart's favourite Estates Theatre, Carolinum, the medieval university seat or the jewel of cubist architecture – House at the Black Madonna.
0 Reviews
Unfortunately there are no reviews available. Be the first to review Old and Jewish Town - EN.
More offers from this partner