The students are welcomed at the shop and then taken to " liberation market":At the market, you will discover and learn about the ingredients needed for the menu as well as seasonal produce.Back at the shop, it's time to set to work and to prepare the dishes of the day.
We will teach you techniques, tips and tricks.
Every tuesday from 9am to 2pm.
You will be able to ask questions, share and exchange your ideas with the chef and the other participants.
Venue
Cuisine sur cours
75 Avenue Alfred Borriglione, 06100 Nice, France / www.cuisinesurcours.com
Offered by
Cuisine sur cours Atelier gastronomique
06100 - Nice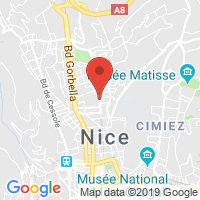 Further information
As a creative gourmet chef who is always seeking out innovation, Aude excels at sharing her knowledge, tips, and tricks. With her help, your dishes will always be a success without spending hours in the kitchen, and you will fully enjoy cooking for yourself or your family and friends.
15 Reviews
Intéressante expérience à connaître malgré le tarif qui me semble élevé.
L'accueil correct tout en restant professionnel avant tout. Nous aurions apprécié plus de détente et un peu plus de sourire...
Pour la réservation je n'ai pas à me prononcer.....c'est un cadeau de fête des mères.
Pour ma part, je trouve le tarif de 85€ assez élevé c.tenu de l'environnement ce n'est pas un restaurant, c'est « une école » dans une cuisine où l'on apprend des tours de main et des astuces (ce qui reste néanmoins appréciable) et un tour du marché avec des explications.
Oui bien sûr je recommanderai cette adresse.

by Bertrand Ferrando vers Danielle et Christian Ferrando on 07/08/2019
Je tiens tout d'abord à vous remercier de votre retour Je prends note de votre avis et je suis désolée de n'avoir pas pu vous satisfaire pleinement. je tiens à cœur de satisfaire ma clientèle et d'apporter le meilleur service possible. C'est ce que j'ai fait quand vous êtes arrivé avec une seule réservation et que vous étiez 2 ... J'ai effectivement été déstabilisée et peu être pas très "souriante" )à ce moment mais j'ai fait le nécessaire pour que vous puissiez tous les 2 participer au cours. Ce qui a peut être en-tâcher ma bonne humeur du début et donc mon accueil. j'espère toutefois, que vous avez passé un bon moment et appris de nombreuses choses.
Small fine tips and tricks

It was a great pleasure to be shown the local market and for educational information about raw materials coming in from the locals.
Nice 3-course menu where we helped to make all three dishes. Well organized! French and English are spoken which was a great help to me.
It is easy and easy to order and place on a team. I have already recommended a course for all my friends ;-) So more Danes can come to the teams that have come.
by Lis Klein on 06/19/2019
Great informative cooking class with Aude
We tried the market cooking class - Aude took us to the closest market and explained to us what we saw: what kind of taste/ where they are from etc. Her explanation gave us lots of interesting knowledge of the local French market.
Cooking class was very informative and we cooked three course meal. Overall Aude was fantastic and very friendly. We would love to come back and try another class with her. Definitely recommend while staying in Nice!
by Dinuka Acharige on 02/23/2019
know betterbook bettergo better
TripAdvisor Traveler Rating
98 Reviews
More offers from this partner