Cooking involves learning techniques and tricks…That's why this course is perfect for those who wish to create more than one dish, but who don't feel ready yet to go for the Basic course.For about 1h30, the participants will prepare two dishes: a main course and a dessert.
This class will enable you to approach cooking at your own pace before trying a more comprehensive course.
After cooking, the participants will get to savour the dishes, which will be accompanied by a glass of matching wine.
Every tuesday from 5pm to 7pm.
Venue
CUISINE SUR COURS Atelier gastronomique
75 Avenue Alfred Borriglione, 06100 Nice, France / www.cuisinesurcours.com
Tramway: arrêt valrose université
Offered by
Cuisine sur cours Atelier gastronomique
06100 - Nice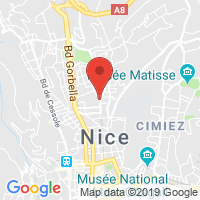 Further information
As a creative gourmet chef who is always seeking out innovation, Aude excels at sharing her knowledge, tips, and tricks. With her help, your dishes will always be a success without spending hours in the kitchen, and you will fully enjoy cooking for yourself or your family and friends.
3 Reviews
Atelier très sympatique
Choix du créneau très limité
by Claire MICHEL on 04/17/2019
Vive la chef Aude!
Nous avons adoré notre expérience. La chef/prof est une excellente pédagogue et nous a appris plein de choses. Nous avons préparé avec elle un repas digne d'un grand restaurant et nous avons hâte de le refaire pour nos amis et notre famille.
Nous pensons déjà à nous inscrire à des ateliers pour nos vacances de l'an prochain.
Nous recommandons vivement cette activité et en avons déjà parlé à des gens de la région qui se disent intéressés par les ateliers.
by Chantal de Montréal on 06/17/2018
Amazing evening of French cooking
The entire experience was wonderful. Our instructor took the extra time to translate into English and make us feel welcome. The French people in our class were interested and happy to share experiences and discuss our cultures. The food was elegantly prepared and I walked away truly feeling like I could recreate the same experience myself in the States.
by Matthew on 06/04/2018
know betterbook bettergo better
TripAdvisor Traveler Rating
98 Reviews
More offers from this partner