For about 2 hours 30, students will explore gourmet menus, themes or products .The menus change every week so as to satisfy everyone's tastes and adapt to the new season and its produce.
Techniques, tips, and professionals' tricks will be provided at this course.
You will get to ask questions, share and exchange ideas with the chef and the other participants.
On morning (9am to12) or afternoon(3pm to 6pm).
Since enjoying cooking goes hand in hand with tasting and sharing, we will gather together to eat the meal, which will be accompanied with a matching wine.
Venue
Cuisine sur cours
75 Avenue Alfred Borriglione, 06100 Nice, France
Offered by
Cuisine sur cours Atelier gastronomique
06100 - Nice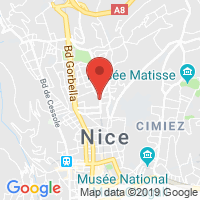 Further information
As a creative gourmet chef who is always seeking out innovation, Aude excels at sharing her knowledge, tips, and tricks. With her help, your dishes will always be a success without spending hours in the kitchen, and you will fully enjoy cooking for yourself or your family and friends.
23 Reviews
Excellent
J ai offert ce cours en cadeau.
Ils sont revenus très satisfait et avec l envie de refaire les recettes
Ils ont profité de la journée à fond et l intervenante est géniale et adore transmettre.
Je la recommande
Aucune difficulté à la réservation.
by Katia Pacilli on 07/07/2019
Top ! Je recommande
Je recommande ce cours à tous
by Pierre CABEZA on 02/03/2019
Great Experience!
This was a wonderful lunch time class where we had instruction, participated, and then shared our meal outside on the beautiful terrace. The class was taught in French, but the teacher was very clear in her speaking, and made sure we all knew what she was saying.
by Carmella Anderson on 10/04/2018
know betterbook bettergo better
TripAdvisor Traveler Rating
98 Reviews
More offers from this partner