For about 2 hours 30, students will explore gourmet menus, themes or products .The menus change every week so as to satisfy everyone's tastes and adapt to the new season and its produce.
Techniques, tips, and professionals' tricks will be provided at this course.
You will get to ask questions, share and exchange ideas with the chef and the other participants.
On morning (9am to12) or afternoon(3pm to 6pm).
Since enjoying cooking goes hand in hand with tasting and sharing, we will gather together to eat the meal, which will be accompanied with a matching wine.
Venue
CUISINE SUR COURS Atelier gastronomique
75 Avenue Alfred Borriglione, 06100 Nice, France / www.cuisinesurcours.com
Offered by
Cuisine sur cours Atelier gastronomique
06100 - Nice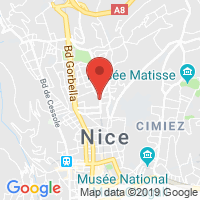 Further information
As a creative gourmet chef who is always seeking out innovation, Aude excels at sharing her knowledge, tips, and tricks. With her help, your dishes will always be a success without spending hours in the kitchen, and you will fully enjoy cooking for yourself or your family and friends.
26 Reviews
Decouverte et apprentissage
Passionnée de cuisine, mon mari m'a offert ce cours.
J'ai adoré. J'ai appris beaucoup de choses techniques et avec beaucoup de bon humeur et beaucoup de pédagogie
Des recettes fantastiques, originales et excellente.
Un jolie cadre et une belle cuisine tres conviviale.
J'y reviendrai volontier.
J'aimerai meme prendre une série de cours pour pour me perfectionner.
Un prof a l'écoute et tres professionnel qui aime son métier.
Merci pour ce moment.


by Olivier Tardy on 08/06/2019
Super
Très bon moment. Repas délicieux et plein de conseils très utiles. Je recommande et je pense revenir !
by Nathalie Gantelet on 08/06/2019
Très bonne surprise
Découverte des produits et des techniques pour les cuisiner avec une chef très professionnelle.
by Fabien on 07/28/2019
know betterbook bettergo better
TripAdvisor Traveler Rating
98 Reviews
More offers from this partner