Night Watchman Torchlit Tour of Bonn
–25%
This tour is especially for the brave: during the Middle Ages the night watchmen guarded the city walls and kept away thieves and robbers and worse. The group will walk with the watchman through Bonn and listen to the scariest of horror stories.
Travel back to the middle ages of Bonn
Exciting horror stories by torchlight
Experienced tour guide costumed as a night watchman
Venue
Meeting point is at the townhall

Markt 2, 53111, Bonn, Deutschland
U-Bahn station University/Markt
Offered by
AE-Event Agentur für Erlebnisevent und Tourismus
53111 - Bonn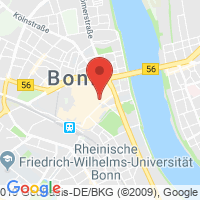 Further information
Something more than just an evening walk through Bonn: torches immerse the city in a new light and make it into something mysterious. The night watchman welcomes you at dusk and starts the nightly patrol on Bonn's streets.
Participants will hear scary stories about ghosts and devils that originate from the times when the Black Death stalked the streets, when witches were hunted and the city was violently sacked. During these times it was the night watchmen who guarded the city walls, with the intent to keep away death and destruction. Are you brave enough to shake hands with the dark side of Bonn?
6 Reviews
Unbedingt teilnehmen
Eine tolle Fackeltour durch Bonn. Hat von der ersten Minute an Spass und gute Laune gemacht.
Selbst als Bonner noch viel Interessantes dazu gelernt und Dinge wahrgenommen an denen man sonst immer achtlos vorbei begangen ist.
Ein besonderen Dank an unsere wunderbaren Nachtwächterin. Mit Witz und Charm hat sie uns durch Bonn geführt. Historisches gemischt mit Geschichten teils zum schmunzeln wurde es keinen Moment langweilig. Können wir nur weiter empfehlen für Bonner und Nicht-Bonner.
Buchen mit Regiondo war einfach und die Terminerinnerung machte die Buchung perfekt.
by Christine Ridder on 04/04/2018
Informativ und nett gestaltet
Eine kurzweilige Führung durch die Stadt mit gleichermaßen unterhaltsamen und informativen Anekdoten angefüllt, nett vorgetragen von einem echten 'Bönnchen'. Als Düsseldorfer sollte man allerdings leidensfähig sein ;o) Nach der Führung darf man sich im Herzen als 'Bönnchen' fühlen - dabei in bester Gesellschaft mit Adenauer, Beethoven und Casanova.Die Buchung ist unkompliziert und der Preis durchaus gerechtfertigt.
by Britt K. on 03/09/2017
Interessante und kurzweilige Führung
Interessante und kurzweilige Führung für alle, die Bonn ein wenig näher kennenlernen möchten.
by S. T. on 02/23/2017
know betterbook bettergo better
TripAdvisor Traveler Rating
9 Reviews