Why not take advantage of your lunch break to combine cooking and treating yourself with eating healthily? You will only need 30 to 40 minutes to create the dish of the day.You can use the remaining time to enjoy your creation with us.
Your lunch break is enough!
We offer a glass of wine.
Every monday from 12.30 to 1.30pm.
Venue
CUISINE SUR COURS Atelier gastronomique
75 Avenue Alfred Borriglione, 06100 Nice, France / www.cuisinesurcours.com
Tramway: arrêt station valrose université
Offered by
Cuisine sur cours Atelier gastronomique
06100 - Nice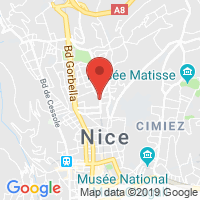 Further information
As a creative gourmet chef who is always seeking out innovation, Aude excels at sharing her knowledge, tips, and tricks. With her help, your dishes will always be a success without spending hours in the kitchen, and you will fully enjoy cooking for yourself or your family and friends.
4 Reviews
Amazing experience in France
The class caters to big families. We were a party of 7 and felt very comfortable in the huge kitchen. The class was very detailed and informative. I learned many new tactics while cutting my vegetables and when cooking chicken. We were able to cut , peel , slice , season and even garnish our plates as if we worked at a fancy restaurant. In the end we enjoyed our meal in the beautiful backyard with some rose. My family thanked me so much for finding and booking this interactive activity on our vacation.
by Marie Yves Jeudy on 08/18/2018
A refaire
Simplicité et bons conseils pour une cuisine de tous les jours de qualité
by Jean CALVARIO on 07/12/2018
Très bon concept. C'est rapide et c'est savoureux !
Evidemment, avec les conseils du Chef, sur place, on ne rate jamais son plat ! A la maison, c'est autre chose :-)
Je regarde les menus proposés et je m'inscris sans tarder !!
by Eliane AYME on 05/03/2018
know betterbook bettergo better
TripAdvisor Traveler Rating
98 Reviews
More offers from this partner