How to bike - Technique course Basic & Advanced
The technical MTB - Training offered by KREAKTIV allows you to improve your biking skills within just three hours. We will show you our best tricks and techniques and give you useful tips on how to remain firmly in the saddle in our own outdoor training area. An afternoon full of fun awaits you!
training area with various obstacles
instructions from our experienced guides
Bike-Tour through the beatiful Ahrntal
Included

Mountain bike (standard)
cycling helmet

Not included
Duration
3 Hours
Bring along

sportswear/ bike wear
running shoes or MTB cycling shoes
a small rucksack with food and drink
rainwear

Participants
maximal 30
Languages
German, English, Italian
Opening hours
Region
Cadipietra, Trentino-Alto Adige
Requirements

physical condition for a short and easy MTB tour

Additional information
180419 Folder_Sommer_18_V4.pdf
Venue
Bike-und Skiverleih Hofer in Steinhaus
Hauptstraße 106, 39030 Cadipietra BZ, Italien
free parking
Steinhaus
Offered by
Kreaktiv KG
39030 - Cadipietra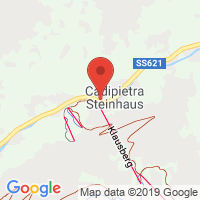 Further information
Going by bike is easy. Real mountain biking, however, does require a little more practise. For this purpose, we havebuilt our own outdoor training park. Slalom trails, hummocks, mounds, hills, ramps, bridges, curves, jumps, gently and steeply falling grounds, steps, and boulder - anything you will encounter outside the training area as well. At the end of the day, you will rideyour bike more safely and you will enjoy mountain biking more than you ever have! Right after the training session in our training park you will have a first chance to try out and test your newly acquired skills on a short bike tour through the breathtaking Tauferer Ahrntal/Vallo di Tures ed Aurina.
2 Reviews
Nettes Erlebnis für Anfänger
Netter kompetenter Guide
Trainingsgelände gut aufgebaut
In unserem Fall war aber das Gras meterhoch, was ein bisschen genervt hat.
Mit MTB Erfahrung könnte es langweilig werden. Meiner Tochter (13) hat es Spaß gemacht.
by Joe on 06/25/2019
Hallo Joe, inzwischen wurde gemäht. Danke, dass ihr teilgenommen habt. In der Tat ist das Technik-Training auch für MTB-Anfänger, sodass wir vor allem Grundlagen vermitteln. Wer Lust auf Challenge hat, kann mittwochs bis freitags an den Programmen teilnehmen. Beste Grüße an dich und deine Tochter.
Ein guter Einstieg in das Thema MTB
Insgesamt hat uns das Training schon sehr viel gebracht, lediglich die Gruppe war etwas zu groß. An den einzelnen Elementen waren dadurch die Wartezeiten sehr lange.
Trotzdem vielen Danl an Günter!


by Dietmar Steglich on 10/14/2018
Danke für dein Feedback, Dietmar. Wir werden weiterhin versuchen, bei größeren Gruppen auch kurzfristig mehrere Trainer zu organisieren. Viele Grüße aus dem Ahrntal
know betterbook bettergo better
TripAdvisor Traveler Rating
9 Reviews
More offers from this partner