In the enchanting of Auditorium Santo Stefano, near Ponte Vecchio, the beathing heart of Florentine Renaissance, let yourself be carried away by the sublime voices of opera singers who can take you by the hand into a timeless story, sites of love found and then sacrificed between Alfredo and Violetta in a short version of the famous opera by Giuseppe Verdi that excited the world: the Traviata
Opera Pocket With Ballet
Auditorium di Santo Stefano al Ponte Vecchio
The most famous opera by Giuseppe Verdi
Venue
Auditorium di Santo Stefano al Ponte Vecchio
Piazza di Santo Stefano, 1, Firenze, FI, Italia
C1 / C2 Ponte Vecchio
Offered by
Opera in Roma S.r.l.s.
50122 - Firenze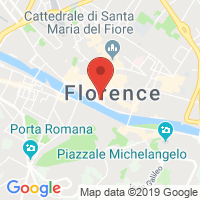 Further information
Violetta ValÉry – Soprano
Fulvia Mastrobuono / Mariangela Cafaro
Alfredo Germont – Tenore
Mattia Nebbiai / Claudio Sassetti
Giorgio Germont – Baritono
Francesco Luccioni / Enrico Paoletti
PianistaBeatrice Bartoli
ContrabbassoAntonio Lipari
Ballerini – DancersMartina Maiani, Francesca Cavezza, Lara Cavezza,Edoardo Zanobini, Kristel Kure, Giacomo Fabbio
Regia:Antonio Lipari
CoreografieDonatella Cantagallo
Scene e costumi:Minea De Mattia
4 Reviews
the disappointment
I did not like the show as a whole.
Inappropriate place, warmth, lousy acoustics, poor show visibility. Sorry!! But I lost my money.


I had planned on different birthday night for my husband....
by Thais Maria de Bezerra on 09/17/2019
Dreadful
Venue is an ugly church 'decorated' with projections of flowers. Pianist was very good, but the choreography for the dancers was poor and the whole dance thing added very little. As for the opera, concert performance should include some attempt at acting along with fine singing. The soprano had such strong vibrato that she seemed out of tune much of the first half, settling down in part 2. The tenor was probably the best performer since, while the baritone had a good solid voice, he made little attempt to act.
The combination of poor venue, variable singers and weak dancing means we could not recommend this experience.
by Hugh Rogers on 05/29/2019
Ripp off
No
by Juan Carlos Gonzalez on 03/20/2019
More offers from this partner