Hop-On Hop-Off City Tour in Frankfurt am Main
The city tour with the double-decker open-top bus takes you along the most famous sightseeing places, such as the cathedral or the financial sector. The hop-on hop-off system allows you to organize your tour the way you feel like.
All the famous places in Frankfurt
The tour takes place once a day
12 different languages available
Individual setting of your tour thanks to the hop-on and hop-off system
Included
Approx. 1 hour 20 min tour
Duration
1 Day
Participants
Sitzplätze für 40 Teilnehmer vorhanden
Categories
Sightseeing Tours, Bus Tours, Explore & Discover, Sightseeing Tours in Frankfurt am Main, Bus Tours in Frankfurt am Main, Sightseeing Tours in Hesse, Bus Tours in Hesse
Languages
Chinese, English, French, German, Italian, Japanese, Portuguese, Russian, Spanish
Opening hours
01/01/2019 – 12/31/2019
Daily 09:15 - 18:15

Region
Frankfurt am Main, Hesse
Venue
Einstieg an 14 verschiedenen Haltestellen möglich: u.a. Berliner Strasse, gegenüber der Paulskirche und Hauptbahnhof Hauptportal.

Wiesenhüttenstraße 39, 60329, Frankfurt, Deutschland
Parkmöglichkeiten vorhanden (kostenpflichtig)
Bahn: Haltestelle Frankfurter Hauptbahnhof (3 Minuten Fußweg)
Offered by
Greenline of Frankfurt
60329 - Frankfurt am Main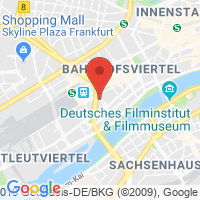 Further information
With the hop-on and hop-off bus you can, organize your journey the way you want. Spend more or less time at the sights depending on the fun you are having! The blue double-decker open-top bus drives along the most famous places in the city, such as the Krönungsstrecke (Frankfurt cathedral of the German emperors) and the modern European Central Bank. You will also admire Frankfurt's skyline, which features some of Europe's tallest skyscrapers. Last but not least the bus will bring you to the Opera Tower, the historic city center, St. Paul's Church as well as the house where the Goethe family lived.
Along the road you will also be able to visit the Frankfurt fair, the iron bridge and the museum embankment – a gathering of no less than 12 museums. During the tour you will learn many interesting and entertaining facts about all the sightseeing venues you will pass by, thanks to the audio guides included in the offer. These are available in 12 diferent languages.
When you see a place you like you can get off of the bus and take a closer look at Frankfurt's beautiful monuments. You can then easily hop back on the bus at one of the many stops. These buses come by regularly. You can see where the stops are on the map in our photo gallery.
The ticket is valid from 9:15 am until 6 pm. The first and last departure takes place at Frankfurt's central station (Hauptbahnhof) at 9:15 am and 17:15 pm.
0 Reviews
Unfortunately there are no reviews available. Be the first to review Hop-On Hop-Off City Tour in Frankfurt am Main.
know betterbook bettergo better
TripAdvisor Traveler Rating
471 Reviews
More offers from this partner