–15%
We'll learn the tricks to make the real Neapolitan Pizza at home without a wood oven as Neapolitan people do.We will turn into experienced Pizza Makers and will practice the techniques to make a good dough, combining together traditional ingredients. We will experiment with simple and fast cooking techniques to maintain the unmistakable taste and crunchiness of Neapolitan pizza even at home.We will prepare and taste together the Pizza Margherita and the Fried Calzone (Pizza Fritta). It will be a journey within the traditional flavors of our land - You cannot miss it!
Toffini Academy is ranked in the top 10 Cooking School in Italy but it is the only one totally dedicated to non-professional food lovers. That's why you will not learn in the kitchen of a restaurant or a Pizzeria but in a special domestic kitchen where you will have your own place and tools to maximize the experience, because our promise is that you will be able to do it at home!
Cook & eat the famous Margherita and Pizza Fritta
Learn how to replicate the recipes at home
The best way to understand Neapolitan Culture
Hands-on experience suitable for anyone
Included

A meal made of Pizza Margherita and Pizza Fritta (fried calzone), vegan or vegetarian options available.

Welcome aperitive, still and sparkling water, Neapolitan Espresso

Use of a kitchen apron, high quality pans, pots and tools, a link on our server where you can download the recipes.

Free Wifi available

Not included

During the experience it will be possible to buy glasses or bottles of white or red wine from our wine list or a selection of local and international beers

Bring along

just a smile, if possible :-)

Participants
16
Categories
Culinary, Culinary in Napoli, Culinary in Campania
Languages
English
Opening hours
Region
Napoli, Campania
Requirements

The experience is suitable for everyone, the minimum age of 8 years is indicative for the height of the worktop so as to allow everyone to prepare individually the recipe. Contact us if you have younger children, we will understand if you can manage them with you :-)

Important information

Let us know in advance if you have any allergy or intolerance.

Let us know if you have younger kids, if possible we will manage them together!
Venue
Toffini Academy Cooking School is located in a street front shop, in the commercial area of the residential building at Via G. Martucci, 35
Toffini Academy
Via Giuseppe Martucci, 35 e
Toll Parking next door
Metro: Linea 2 - Any train direction Pozzuoli Stop Piazza Amedeo; Funicolare di Chiaia: Stop Parco Margherita; Toll Parking nearby (wall to wall with us) Citysightseeing Bus Line B (blue) Stop 3 or 9 / Linea C (green) Stop 3 or 4 Taxi services cover the area 24/7 and we can call them for you, they will be available normally in 3/5 minutes
Offered by
Toffini
- Napoli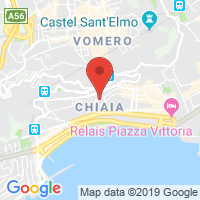 Further information
Margherita is the queen, but she is not the only one!
During this class you will experience the authentic pizza that Neapolitan families make at home.We will prepare the dough with the original recipe, we will cook together the classic Pizza Margherita and the incredible Pizza Fritta (Fried Calzone) with traditional ingredients.
You will learn, by cooking in your dedicated station, all the techniques to replicate them in your home, because our promise is to make you bring the experience for life and share your Pizza with your friends and family once you return to your city.
The experience is suggested for people who don't have the brick wood oven at home and want to learn how to make the Neapolitan Pizza at home as Neapolitans do.
Some guests have stated in reviews that it was the best pizza ever, but we only have the merit of buying the best possible ingredients, because in Naples preparing food for others is considered a way of loving, and we love to host people from all the world that share with us our same passion for Pizza.
During the lesson you will taste our famous Tomato Salsa (sauce), fresh buffalo mozzarella, fresh ricotta cheese, Neapolitan salami and more, in a mix of crispness and freshness in every bite; all accompanied by stories and legends of the city and the food of Naples, and how it is the mirror of the way of living of its people.
At the end of the lesson, if you have a few more minutes, we will prepare an espresso coffee to enjoy together while suggesting you insider tips to discover our wonderful city. Any special request is welcome, in Naples we use to say "to ask is never a sin!" We can't wait to welcome you!
5 Reviews
Fantastic Pizza Class
The pizza making class with Luigi was amazing and a highlight of our trip! We made three different types of pizza and Luigi took the time to explain everything and talk us through the different ingredients, method and history of pizza. The kitchen facilities were very clean and modern and the whole afternoon well organised. Luigi was a great host and very passionate about pizza! Would highly recommend this class to anyone. Thanks Toffini for a great experience
by Amy Gerrard on 09/16/2019
Amazing
just perfect
by Ali Abu Alburghol on 08/19/2019
Highly recommend to anyone who wants to know more about Neapolitan cuisine
Amazing two hours where you can gain some Neapolitan cooking skills. I was appreciated because I have lactose intolerance and they provided me lactose free ingredients. Chef Luigi explained everything very clearly so it was easy to follow him while cooking. I cannot wait to try other courses of Toffini! Grazie! :)
by Mirjam Szakacs on 07/29/2019
know betterbook bettergo better
TripAdvisor Traveler Rating
161 Reviews