Costume/ Historical guided tour in english
In 1709 an italian perfumer named Johann Maria Farina invented the most famous water in the world. This classy perfume is still made today by the same family in the same house.
An actor dressed in a historical costume plays the role of the inventor of Eau de Cologne
Guided tour in english through the birthplace of Eau de Cologne
Introduction of high-quality essences
Wide collection of historical flacons
Admission is free for children 10 and younger
Venue
Please validate your ticket at the front desk.
Farina Fragrance Museum
Obenmarspforten 21, Cologne/ Köln, Germany/ Deutschland
Parking garage located at: An Farina - Laurenzplatz 4, 50667 Cologne/ Köln
Tram/ Metro line 5: station Rathaus; Tram/Metro lines 1 and 2: station Heumarkt
Offered by
Farina Duftmuseum
50667 - Cologne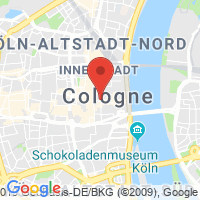 Further information
Join Johann Maria Farina himself as he takes you to a journey through the world of fragrances. An actor in rococo-period costume will introduce you to the secrets and the history of the world-famous Eau de Cologne. He will explain the challenging perfume-making process: beginning with the composition of a perfume to its production. Further you will have the chance to smell at several essences in the distilling room.
6 Reviews
Interesting!
He explained really good, and also intersting. I enjoy the tour whole time. And thank you for your gift♥
by Mrs. YUJIN LEE on 10/24/2017
Very enjoyable experience
I found it very interesting, the presenter was excellent and smelling the different scents great fun. I would certainly recommend it. It was a bit pricey but then I suppose everything in the scent world is.
by Lis Telford on 10/23/2017
Check your tickets
The tour itself was very informative if not a little showy. My complaint relates to the printed confirmation of my online purchase not being the actual ticket. They insisted that another email contained the true ticket with a bar code to be scanned. The receptionist was a little confrontational and refused us entrance. I got to go on the tour using my cousins ticket, while our husbands waited outside. Afterwards I asked to speak with a manager, who said it could be easily verified. As she tried to help, the receptionist went over the edge and insisted our husbands said they didn't care to take the tour so she didn't bother. Although it may have been a language barrier, I question the woman mistaking their willingness to de-escalate her confrontational behaviors, with our willingness to pay for four tickets yet only get two admissions. The fragrances however were beautiful, and I bought a souvenir for many employees and family members.
by Joanne on 10/18/2017
know betterbook bettergo better
TripAdvisor Traveler Rating
792 Reviews
More offers from this partner