Helicopter Sightseeing Flight over Vienna
From a bird's eye view Vienna presents itself in a completely new way during this helicopter sightseeing flight: like a colorful sea of green parks, red roofs and blue water sceneries, the city literally lies at the passengers' feet. Fly through the air with a professional pilot, who also serves as your tour guide.
The Danube and the Wienerwald from above
Qualified pilot
2 helicopter models available
| | |
| --- | --- |
| Duration | 40 Minutes |
| Bring along | Weather-appropriate clothing, sturdy shoes, consent by a parent or guardian if necessary |
| Participants | 1 to 6 passengers per flight |
| Categories | Helicopter Rides, Aerial Tours |
| Languages | German |
| Opening hours | |
| Requirements | Underage participants only with declaration of consent by a parent or guardian |
| Important information | Flight only takes place during good weather conditions, please get in touch with the provider 2 hours before since departure time can change depending on weather, please arrive at the departure point 30 minutes before tour begins |
Venue
Euro Flight Helicopter Services
Flugfeldstraße 2540, Bad Vöslau, Österreich
Parking available
Regional Train: Bad Vöslau station (12 minutes on foot)
Offered by
Flugplatz Bad Vöslau
2540 - Bad Vöslau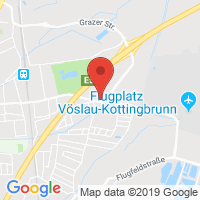 Further information
You will be flying high during this helicopter sightseeing flight over the rooftops of Vienna. You will be able to see Austria's capital city from a whole now perspective. An experienced professional pilot navigates the helicopter and also functions as a tour guide.
The starting point is the Bad Vöslau Airfield in Lower Austria. From here the sightseeing flight will fly over the Wienerwald, which covers the foothills of the northern Alps, then continues along the blue Danube to the Schwechat-Himberg Airport.
2 helicopter models are available for the flight. Depending on the model, up to 6 passengers can be seated comfortably in the helicopter:
Eurocopter BO 105: 1 pilot, 4 passengers, twin-engined helicopter, maximum speed: 242km/h
Eurocopter AS 350 Ecureuil: 1 Pilot, up to 6 passengers, take-off power 700 PS, top speed of up to 230 km/h
During the flight the pilot will impart much worthwhile information about Vienna and its surroundings. You are welcome to take a camera on board with you, to take pictures of the picturesque landscape.
0 Reviews
Unfortunately there are no reviews available. Be the first to review Helicopter Sightseeing Flight over Vienna.