Ghosts and Legends Prague - EN
Explore the shadowy mysterious world of medieval Prague on an evening Ghostly tour. Learn about the most fascinating legends and tales, walk through the dark narrow streets and hear about some from the countless number of Prague ghosts, spirits and restless souls.
Enjoy an entertaining look at Prague's ghostly past
Hear dramatic stories and legends about the city's grim history
Walk through mysterious, narrow and winding cobblestone lanes
Venue
In front of the Charles Bridge, at Křižovnické square, by the Statue Charles IV.,our guide will hold orange umbrella.
Pomník Karla IV., Staré Město, Praha-Praha 1, Česko
Tram station Staroměstská- tram number 2, 17,18, Subway station Staroměstská- line green
Offered by
Fun in Prague
- Prague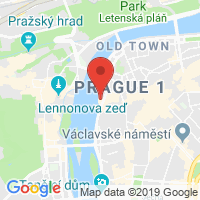 Further information
Don't miss out on this evening tour of Ghostly Prague that takes you on a journey to the city's dark and grim past. Learn the secret mysteries about the Charles Bridge and its construction and find out why the surrounding streets are considered among the most haunted in the city! While an entertaining guide shares disturbing tales of executions, murders, curses and other horrid deeds you will be led through the labyrinth of old medieval streets. Here in the dark aisles where the unsettled spirits still haunt the present day you can easily imagine yourself face to face to the Headless Templar, Begging Skeleton, the One-armed Thief, Drowned Maid or even to the legendary Golem!
8 Reviews
Thema verfehlt
Die leider unzureichend deutsch sprechende Führerin hat sich Mühe gegeben. Sie führte die kleine Gruppe auf versteckten Pfaden durch die Innenstadt. Das war super. Aber für die Legenden reichten die Sprachkenntnisse nicht aus.
by Kirsche67 on 01/02/2018
Sehr interessant
Treffen lief super und wir haben viel Interessantes über das mittelalterliche Prag erfahren. Unsere Führung war sehr kompetent und hat fast auf jede Frage eine Antwort gehabt. Ausserdem war das Ganze charmant vorgetragen. Empfehlenswert
by Kirsti Schippmann on 12/09/2017
einmal reicht
zu große gruppe
unaufmerksamer guide - verliert fast die Teilnehmer
langweilig - da kann man aus der Geschichte von Prag viel mehr machen
...
by Dirk R. on 11/24/2017
More offers from this partner