German as a Foreign Language in Cologne - Evening Course
Learn German in an effective 3-month long evening course (4 hours of instruction per week) with a communicative approach to learning in Cologne! Book online now and secure a 10% discount and save €50.
Take part in an intensive 3-month long German course with 4 hours of instruction per week in Cologne
Learn German through actively speaking and using the language
Have fun while learning with the communicative learning approach
Venue
Helmholtzstrasse 76
Helmholtzstrasse 76, 50825 Cologne
Offered by
Sprachschule Insula
50825 - Cologne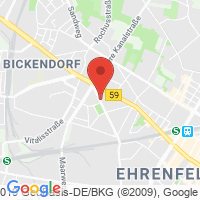 Further information
Are you looking for a German course with modern teaching methods? But you're busy during the day? Then this German course in Cologne at the Sprachschule Insula is perfect for you. You will greatly advance your German with our 3-month long course at 4 hours per week.
You will take part in interactive German lessons given by motivated and educated language teachers. The lessons will concentrate on the practical application of the German language through various practice situations.
The goal of the lessons is to prepare you for real situations in which you would use German. This course includes excursions, so that you can use what you have learned in all day situations. At the end of the course you will take the appropriate German exam.
1 Reviews
by Kim Pfanner on 09/02/2012