German as a Foreign Language in Bamberg - Intensive German Course near Nuremberg
–5%
Learn the German language in an intensive German course for up to 4 weeks with 20 instruction hours per week in Bamberg near Nuremberg. Book now online for a 5% discount and save up to € 44 on your language course in Sprachinstitut TreffPunkt.
Learn German through a qualified language course
Receive instruction for up to 4 weeks for 20 hours per week
Enjoy the comfortable atmosphere in Bamberg's Sprachinsitut Treff Punkt
Venue
Hauptwachstrasse 19
Hauptwachstrasse 19, 96047 Bamberg
Offered by
Sprachinstitut TREFF PUNKT
96047 - Bamberg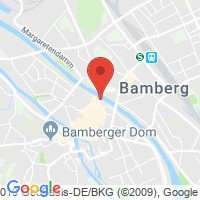 Further information
Are you looking for a language school with highly qualified German instruction and experienced teachers?
Then the Sprachinstitut Treff Punkt in Bamberg is perfect for you, so that you attain a high speaking ability in a short time.
Before the course, a German test will take place in order to evaluate your German knowledge and place you in the right course.
You can choose a 1 to 4 week long course, and you will spend 20 hours per week learning German. The course takes place from Monday through Friday from 9:00 am to 12:30 pm. You should expect to spend about 2 hours per day outside of the course reviewing material preparing for your next class.
The main focuses of this course are the building up and development of communication abilities, improvement of pronunciation and writing as well as reading and listening comprehension. This course also covers information about German culture and grammar rules.
The price includes the application fee of a maximum of € 52.
2 Reviews
by Mohamed Duhse on 09/20/2012