Free Tour Madrid Essential
Explore different sides of Madrid walking, on this 3-hour walking tour with knowledgeable local guides. Learn the history of the Spanish capital discovering historic monuments, shops and cafés.
Explore Madrid's amazing historic center walking
Learn the history of Madrid, from the Moors to the Romans to the present day
Discover what tapas are and why there is a bear in the square
Included

Guide
Free maps of Madrid

Not included

• Entrance fees

• Transportation

• Food and drink

• Tips

Duration
0 Day
Participants
Note that all reservations of less than 3 people are subject to cancellation
Categories
Themed Tours, Explore & Discover, Themed Tours in Madrid, Themed Tours in Comunidad de Madrid
Languages
English, Spanish
Opening hours
Region
Madrid, Comunidad de Madrid
Important information

The Free Walking Tour Madrid Essential starts every day at 11:00 in Puerta del Sol (subway line 1, 2 and 3) at the statue. Search for our original guides wearing red T-shirts with the Madride Travel logo (the bear) and holding the yellow sign on what MADRIDE TRAVEL Free Tour is written. REMEMBER, WE DO NOT USE UMBRELLAS OF ANY COLOUR!If you have any problems, call us at (+34) 910 264 899 or contact us by email: info@madride.net .If you have any questions, don't hesitate to contact us - we'll be happy to help you.
Venue
Your guide will meet you at the bear statue in Puerta del Sol at 11:00. Your guide will be wearing a red Madride t-shirt and holding a yellow sign on what Madride Travel Free Tour is written. We don't use umbrella of any color. If you have any question or problem call (+34) 910 26 48 99 or email info@madride.net.
Puerta del Sol at the statue of the bear and the tree
Puerta del Sol, 3442, 28013 Madrid, España
Offered by
MADRIDE TRAVEL
28013 - Madrid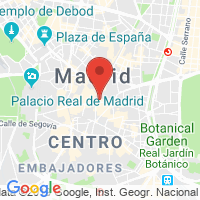 Further information
Enjoy this three-hour free walking tour, and discover an alternative side to the city's landmarks, monuments, and historic neighborhoods. Starting from the centre of the Spanish capital, your guide will show you the energetic vibe of the city, describing how the city was and how it is now in the present. Our guides will tell you the legends and anecdotes of Madrid presenting you places and monuments of important events of the history from the beginning of the existence of Madrid till the culture and the nightlife of this amazing city.
0 Reviews
Unfortunately there are no reviews available. Be the first to review Free Tour Madrid Essential.
know betterbook bettergo better
TripAdvisor Traveler Rating
1356 Reviews
More offers from this partner