General guided tour in english
The success story of Eau de Cologne began 300 years ago in Cologne. In 1709 Johann Maria Farina invented the most famous water in the world. This classy perfume is still made today by the same family in the same house.
Guided tour in english through the birthplace of Eau de Cologne
Introduction of high-quality essences
Wide collection of historical flacons
Admission is free for children under 10
Included

1h guided tour, 1 giveaway per participant

Duration
30 Minutes
Participants
Maximum of 20 participants per tour
Categories
Museums, Explore & Discover, Museums in Cologne, Museums in North Rhine-Westphalia
Languages
German, English, French, Russian, Chinese, Polish, Portuguese
Opening hours
Region
Cologne, North Rhine-Westphalia
Important information

Admission is free for children 10 and younger
No disabled access
Venue
Please validate your ticket at the front desk.
Fragrance Museum Farina-House
Obenmarspforten 21, Cologne/ Köln, Germany/ Deutschland
Parking garage located at: An Farina - Laurenzplatz 4, 50667 Cologne/ Köln
Tram/ Metro line 5: station Rathaus; Tram/Metro lines 1 and 2: station Heumarkt
Offered by
Farina Duftmuseum
50667 - Cologne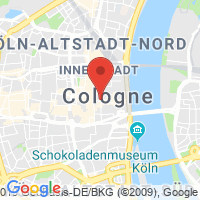 Further information
In 1709 Johann Maria Farina wrote in a letter to his brother Giovanni: "I have found a fragrance that reminds me of an Italian spring morning, mountain daffodils, and orange blossoms shortly after rain. It refreshes me, strengthens my senses and my fantasies."This fragrance that the perfumer named after his chosen place of residence, Eau de Cologne, founded the success of the Farina perfume dynasty. In the 18th century no patent rights existed and many copycat versions of this perfume quickly came to being. Due to these incidents, the Eau de Cologne is designated today as a perfume category. Art related artifacts, photos, and furniture are evidence of the worldwide connections to the Farina perfume dynasty. If you would like, you are welcome to smell a variety of different essences. Detailed descriptions – from the extraction of essences to the development of perfumes from flowers, for example – clearly convey the effort, creativity, and irrefutable talent of this perfumer.
The museums tour leads you down the stairs and into the original arched cellar where the fragrance has been produced for about 300 years. A barrel made of cedar from the time of the company's founding has withstood the test of time can also be seen. The replica of a still, just like the one Johann Maria Farina would have used in the 18th century concretely shows the complicated art of distillation. Photos show the development of perfume production over the last 300 years.
Every day many tours take place in different languages.
54 Reviews
Amazing
My tour at Farina was great. The guide was wonderful and the tour was fun and dinamic. I recomend that everyone in cologne should go to this tour.
by Gisele Spolador Lopes on 11/08/2017
A little bit less than perfect
If you like fragrances, but never really dived into the world and history of perfume, it's the place to be:

- the presentation is reach, light & fun, coming from a professional;
- guide is pretty much dynamic, yet not tiring;
- and you're leaving with a trade-mark 'Eau de Cologne' in you pocket.
by VASILII BONDIN on 11/02/2017
scentsational !!
what an amazing experience! learned so much about the Farina family and their dedication to a lovely product! highly recommended!
by Dawn on 10/22/2017
know betterbook bettergo better
TripAdvisor Traveler Rating
792 Reviews
More offers from this partner