香水博物馆中文游览 / Guided tour in chinese
300多年前的科隆,由调香师约翰·玛丽亚·法里纳先生在1709年发明了世界上第一款香水,它就是举世闻名的科隆水(古龙水)。即使今天,这款高贵的香水仍由这个家族,在法利纳先生的故居里传承着。          
Learn the exiting history of Eau de Cologne in a chinese guided tour in the Fragrance Museum.
德语讲解(香水诞生地原址)
嗅闻高品质的香精
多种多样的香水瓶
10岁以下儿童免费参观
Included

一个小时的讲解,一份小礼物

Duration
30 Minutes
Participants
每场讲解限20人
Categories
Museums, Explore & Discover, Museums in Cologne, Museums in North Rhine-Westphalia
Languages
German, English, French, Russian, Chinese, Polish, Portuguese
Opening hours
Region
Cologne, North Rhine-Westphalia
Important information

10岁以下儿童免费参观
博物馆内有三层,只能使用楼梯,抱歉无法为使用轮椅的客人提供电梯服务
Venue
门票请在博物馆收银台购买或出示 / Please validate your tickets at the front desk.
香水博物馆-法利纳故居 / Duftmuseum Farina-Haus
Obenmarspforten 21, 50667 Köln, Deutschland
停车场:科隆市法利纳-劳伦茨广场 4号, 邮编:50667
城市地铁车5号线市政厅站(Rathaus)下 / 城市轨道车1号线和2号线Heumarkt站下
Offered by
Farina Duftmuseum
50667 - Cologne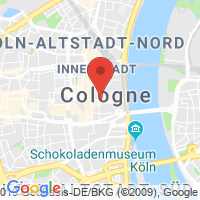 Further information
"我发现了一种香水,它让我想起意大利春天的清晨,雨后空气中混合着水仙花、橙花的气味。它令我头脑清醒、思绪万千,激起无限想象。"在1709年,约翰玛丽亚·法里纳在信中如此描述他最新创作的香水。这款由法利纳的第二故乡科隆命名的香水,奠定立了法里纳香水王朝的成功。在18世纪由于没有专利法,法利纳香水迅速成为众人模仿的对象。在这里,你将了解到,为什么今天科隆水是一类的总称。博物馆的地窖参观,将带您回到300多年前,一览这款著名香水的制作。在这里,游客还可以嗅闻各种各样的香精。详细为您详细香精的提取和起源,比如,蒸馏法,这展现了调香师——法利纳先的创造性和不可替代的天赋。一个复原的蒸馏厂,它是在18世纪法里纳曾使用过的,展现了蒸馏的高度艺术性。
每天都提供多种语言的讲解服务。
10 Reviews
Sehr gut Führung in Chinesisch
Wenn Freunden von mir nach Köln gehen möchten, werde ich Ihnen sie empfehlen. Sehr gute Erfahrung.
by Y. on 04/12/2017
Great tour
Everything is great and really worth it, I will recommend this tour to my friends.
by Yu T. H. on 12/02/2016
nice
I went there with my friend and we knew the history about parfum.It's good.
by Emma on 10/27/2016
know betterbook bettergo better
TripAdvisor Traveler Rating
791 Reviews
More offers from this partner