Advanced Adventurer (5 dives)
This program allows you to experience five different open water dives from five SSI Specialty programs without requiring you to complete the entire Specialty.
Discover scuba diving in Guadeloupe. Magic guaranteed!
All rates include full equipment, individual refreshments on board and boat transportation.
Experienced divers, do not forget to bring your dive books, level cards and medical certificate up to date.
Included

The price of this training includes:

- 6 dives with a duration of 45-50 minutes each

- the equipment

- online theory - access to multiple information on diveSSI.com

- an online digital dive log

- boat transport and individual refreshments on board

- final certification

Duration
2 Hours
Participants
15
Categories
Diving Courses, Water Sports
Languages
English, French
Opening hours
Requirements

Minimum age is 12 years Children must be accompanied by an adult Minimum numbers apply. There is a possibility of cancellation after confirmation if there are not enough passengers to meet requirements. In the event of this occurring, you will be offered an alternative or full refund Not recommended for participants with heart complaints or other serious medical conditions Not recommended for pregnant women All passenger heights and weights MUST be advised at time of booking Diving within 48 hours of flying is not recommended. All participants will be required to complete a health questionnaire prior to diving. Some preexisting medical conditions (eg. asthma, heart conditions, etc.) may prevent you from diving, please consult your doctor Do not book if you have any serious medical issues

Important information

Local supplier telephone number: +590 590 98-8663

Contact person :Nicolas

Rocher de Malendure97125 Bouillante
Venue

Malendure, Bouillante, Basse-Terre, Guadeloupe
Offered by
Guadeloupe Advisor
97125 - Bouillante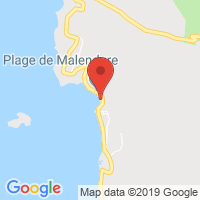 Further information
On the peaceful cote sous-le-vent (Leeward Coast, Basse Terre), the underwater Réserve Cousteau is the place you do not want to miss while visiting the Guadeloupe Islands! The famous underwater explorer Jacques Cousteau called the 1000 hectares around the Pigeon Islands, off the coast of Basse Terre, one of the world's top dive areas and encouraged its conservation since 1955. Dive into this heavenly site for scuba diving and snorkeling and see colorful marine life : corals, tropical fishes, turtles and even humpback whales await in a 28°C water. It's also a good place to safely snorkel with children, because of its shallow waters, where sponges, coral, colorful tropical fish and sea turtles reside. Whether you snorkel or dive here, you're sure to be immersed in the biological diversity that helped this spot gain protection. Captain Cousteau has worked to ensure that this magic space is protected today while remaining accessible to all vacationers who can come for a diving baptism or training (PADI, FFESSM, ANMP). Diving in Guadeloupe is therefore a fun activity, open to all, from 8 to 88 years old.
If you've taken the Open Water Diver course and are now ready to expand your knowledge but would like to see what is out there first, then the Advanced Adventure Diver course is for you! The SDI Advanced Adventure course will give you an overview of five different SDI specialties. Two of the required specialties are the Deep Diver and Navigation Diver specialties which are the foundation of continuing diver education. The remaining specialty dives you can opt for include:
• Advanced Buoyancy Control
• Altitude Diver
• Boat Diver
• Computer Nitrox Diver
• Drift Diver
• Marine Ecosystem Awareness
• Many more!
This course is intended to introduce you to each of the five specialties selected; not complete comprehension of the chosen specialty. One dive from each of the chosen specialties may apply towards the completion of a specialty certification.
Who this course is for:
Any certified open water scuba diver who wishes to expand their diver knowledge and skill set
Any certified open water scuba diver who would like to advance in dive training
Any certified open water scuba diver who would like to experience an introduction to SDI specialties.
Course Prerequisites: 
Minimum age 18, 12 with parental consent. SDI Open Water Scuba Diver or equivalent, SDI Junior Open Water Scuba Diver or equivalent
What will you learn?
• An overview of the SDI Deep Diver and SDI Navigation Diver specialties
• Basic insight to three other chosen specialties of your choice as an introduction to that specific area in divingSome of the in-water skills include:
• Successfully perform skills listed for dive one of the three chosen specialties as well as both core specialties• Deep Diver open water dive
• Test and check all equipment
• Familiarization with dive site
• Descend to planned depth, do not exceed any pre-planned limits
• Dive according to plan at a depth limited to 30 metres/ 100 feetDivers between the age of 10 and 15 cannot exceed 21 metres/70 feet
• Ascend to safety stop
• Exit and log dive
• Navigation open water dive
• Establish a reference point, plan dive, and enter water from shore/boat
• Practice out and back technique on surface
• Squares and triangles on surface
• Perform a square on the bottom
• Perform a triangle on the bottom
• Ascend to safety stop
• Exit and log dive
Departure time: 9:30am or 2pm, everyday.
Please present yourself 30 minutes before departure
0 Reviews
Unfortunately there are no reviews available. Be the first to review Advanced Adventurer (5 dives).
know betterbook bettergo better
TripAdvisor Traveler Rating
88 Reviews