Fascination Wolf at the Animal Film Park Eschede
The two-part wolf discovery night offers you the exceptional possibility to discover wolves like never before. First, you will observe and pet 2 different species of wolves and secondly, you will attend a presentation about the wild ancestors of dogs.
Observe wolves hunting
2 species: European wolves and polar wolves
Explanation and presentation by wolf expert Dr. Dirk Neumann
Food and drinks included in the price
Venue
Filmtier-Park Eschede
Am Aschenberg 27, 29361, Höfer, Deutschland
Parking places are available
Bus 8-35: Höfer Aschenberg stop
Offered by
Filmtier-Park Eschede
29361 - Höfer, Germany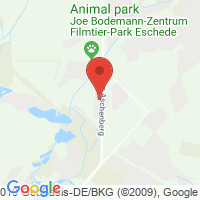 Further information
This special activity begins by meeting wolf expert Dr. Dirk Neumann and going with him around the animal park. You will meet the 2 species of wolves that live there – polar wolves and European wolves – in their natural environment. Then you will observe the wolves hunting for food as they first spot a track, follow it until they find their prey, and finally catch and eat it.
You can also pet the wolves, as they are trained movie animals who have been used to humans since they were little. The groups then stop at the Dschungel Bistro-Café where you can enjoy some food and drinks before "Faszination Wolf" resumes.
Once everyone has eaten enough, Dr. Neumann will present his work and research. He is a specialized veterinarian for zoos and wild animals. In 1983 he began a field research project on the learning abilities of wolves. He was the first person to train wild wolves in a gentle way, taking advantage of the natural learning capacity of these animals. After only one year, in 1984, he presented the world wih the first ever trained wolf pack.
During the presentation, Dr. Neumann will talk about his experiences of wolf to man relationship. For example, he explains that he sees similarities with domestic dogs, despite the fact that they were domesticated 10,000 years ago. However, for safety matters, dogs are not allowed.
During this special night, you will see wolves from a very unique perspective. Clichés are totally left aside so that you can discover the real nature of these proud hunters.
Dogs are allowed on a leash.
15 Reviews
| | |
| --- | --- |
| Overall rating | |
| Value | |
| Fun factor | |
Einfach Super !
Hat sehr viel Spaß gemacht. Der Umgang mit den Wölfen wurde sehr gut erklärt. Danke nochmal an Timo, der soviel Zeit investiert. Mach weiter so!
by Frank E. on 05/11/2014
Alles prima !!!!!
Es war suuuuuuper !
Viel Spaß, Abenteuer und Infos. Empfehlenswert !!!
by V.Weiß on 05/05/2014
Einfach toll!
Trotz Regen ein unvergesslicher Abend mit Einblick in die Inteamsphere der beiden Wolfsrudel und einem interessanten Vortrag.
by J.Brühning on 04/12/2014
know betterbook bettergo better
TripAdvisor Traveler Rating
50 Reviews