Tandem Skydive in Müncheberg
The beauty of Märkische Schweiz nature park is a stunning backdrop for this exhilarating skydive. You will see a unique panorama of lakes, forests, rivers and fields from a new perspective. With a tandem master you will experience the feeling of flying.
Experience the Märkischen Schweiz nature park from a bird's eye view
Free fall from a height of 3,000 m
Jump with an experienced and qualified tandem master
| | |
| --- | --- |
| Included | 1 hour tandem flight including the briefing, equipment, extra photos/videos depend on type of booking |
| Duration | 1 Hour |
| Participants | 2 people can jump at the same time |
| Categories | Skydiving, Extreme Sports |
| Languages | English, German |
| Opening hours | |
| Region | Brandenburg |
| Requirements | Minimum age: 12 years, minimum height: 146 cm, maximum weight: 90 kg, general phsysical health |
| Important information | The activity takes place in good weather conditions and visibility, if not, another free appointment can be made |
Venue
Flugplatz Müncheberg-Eggeshof
Am Flugplatz 15374, Müncheberg, Deutschland
Parking available
Bus 432: Fürstenwalder Chaussee Station
Offered by
Dieter Steigerwald
15374 - Müncheberg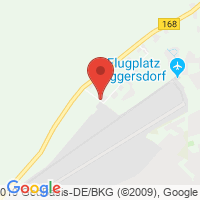 Further information
The Müncheberg airfield, a former military alternate airfield, is the ideal place for a tandem skydive. The site lies halfway between Berlin and the Oder on the German-Polish border, nearby the Märkische Schweiz nature park. The nature park's 205 square kilometer hilly landscape, with lakes, fields, forests and rivers, can be enjoyed from a completely different perspective.
Before the jump there is a short ground briefing, after which boarding begins. After a 20-minute climb to a height of 3,000 m the jump takes place. The free-fall ends at 1,500 m high, at which point the tandem master opens the parachute for the descent.
Photos and a video of the jump can be taken, although this is only possible if one member is jumping. On a jump without photos and a video two participants can jump with their tandem master at the same time.
Jumps are held year round on on weekends. In addition, there are jumps on statutory holidays, weather permitting. The first jump starts at 9:30 am.
2 Reviews
by Marc Helmschrodt on 09/28/2012
Schöne Ausblicke
schöne Landschaft, ein bisschen Adrenalin - eine coole Verknüpfung für mich!
by Isa on 11/17/2011