Would you like to be charmed by the advantages of riding a bicycle in Paris? Discover the capital of France through a guided tour led by professional, certified guides. Enjoy the city with its wonderfull monuments and learn all about the worth-knowing places.
Magnificient overview of the most famous places in Paris
A guided bike tour
Break at a wonderful typical French market in the Marais district
Discover charming hidden paths in the heart of Paris
Duration
3 Hours
Categories
Bike Tours, Sightseeing Tours, Bike Tours in Paris, Bike Tours in Île-de-France
Languages
German, English, Spanish, French
Opening hours
Region
Paris, Île-de-France
Important information

- Merci de bien vouloir vous présenter 15 minutes avant le début de la visite.
- Inclus: le vélo, les accessoires de confort : casque, panier,le guide professionnel, l'assurance RC. Le tarif de la visite ne comprend pas les consommations durant la balade.
- Please arrive 10/15 minutes before departure time.
- Included in the tour : Bicycle, Accessories: helmet, basket, poncho, Professional National Guide, Insurance. The price of the visit does not include: Food and drinks
Venue
Rue piétonne du Quartier de l'horloge Pedestrian Area of "le Quartier de l'horloge"
Paris Bike Tour
13 Rue Brantôme, Paris, France
Metro ligne 11 - Arret : Rambuteau // Metro line 11 - Stop : Rambuteau
Offered by
Paris Bike Tour
75003 - Paris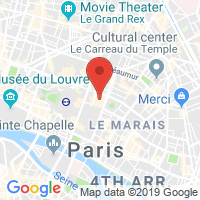 Further information
From the starting point of the almost futuristic Centre Georges Pompidou travel back and forth through time as you explore the Heart of Paris. Experience Place des Vosges and the Louvre through the eyes of King Henry IV and Louis IV.
Then shift your gaze as your bike tour wanders through the contemporary and trendy Marais district before moving on to St. Eustache Church where Rubens' timeless paintings survived the Revolution. Your journey continues to the Palais-Royal and to the Napoleon Courtyard at the Louvre before culminating on the renowned and ancient Ile de la Cité and its neighbour Ile Saint-Louis.
Tour-Highlights:
Centre Pompidou / Fontaine Stravinsky
Hôtel de Sens
Village St Paul
Place des Vosges
Victor Hugo House
Marais District / Jewish Quarter
Marché des Enfants Rouges
Royal Palace / Colonnes de Buren
Louvre Museum and Pyramid
Pont-Neuf
Ile de la Cité / Notre-Dame
Ile Saint-Louis
30 Reviews
Excellent moment !!!
Ayant fait la même activité dans plusieurs villes, je recommande vivement ce circuit pour découvrir Paris de façon ludique. Petit groupe de 7 personnes, parfait pour apprécier. Des explications qui changent de ce que l'on peut avoir dans les guides papiers avec un guide très sympa.
Ne changer rien
by VALERIE on 08/26/2019
Excellent moment !
Nous recommandons vivement cette activité permettant de découvrir certains endroits de Paris en étant accompagné d'un guide transmetteur d'informations intéressantes.
Encore un tout grand merci, Martin !
by alain kefer on 08/22/2019
Super Sympa!
1/ Tout etait très bien.
2/ Non.
3/ Oui d'office.
by Laure-Anne Vanhoeck on 08/02/2019
know betterbook bettergo better
TripAdvisor Traveler Rating
252 Reviews
More offers from this partner