Val Rosandra Wine Experiences
Val Rosandra Wine Experiences will take you on a journey through the scents and flavours of the Karst and Istria, where every sip of wine combines the sea breeze and the strength of the Bora wind with the fertile and mineral richness of the land where the vineyard is cultivated.
You will find yourself at the foot of the Val Rosandra-Dolina Glinščice Natural Reserve, just a few minutes from Trieste, where the Karst Plateau descended to Istria forming the canyon where the Rosandra stream flows. Here the production of wine has very ancient origins as far back as the 1300s.
In this area, thanks to the favourable position of the land, the variety of the vines, the characteristics of the soil and the temperate climate, a wine with ideal characteristics of longevity is obtained. The native vines grown here are typical of the DOC Carso-Kras area: the savoury Vitovska, the aromatic Istrian Malvasia, the fresh Glera, the sharp and colourful Terrano, the authentic and structured Refosco d'Istria.
Val Rosandra Wine Experiences is a particular tasting containing the flavours of Bora and rocks, freshness and minerality, a breath of vivacity and energy like the one that our famous north-east wind brings to the vineyards surrounding the Val Rosandra. You will taste history, tradition, family, Barde's terraces in the cradle of the winery's production where you will experience this wine activity, while the south-facing terraces will tell you about the Mediterranean Sea, ripe grapes and structured wines with great ageing potential.
The activity includes a visit to the barriques and the fresh wine cellar, where a brief journey through the history of the family and their land will open the tastings, which may include: Charmat method sparkling wine, Vitovska, Istrian Malvasia, a cuvée of Refosco and Merlot and the rarity of the PDO extra-virgin olive oil from the Slow Food Presidium. All accompanied by refined snacks and a selection of Carso cheeses and cured meats.
You will visit one of the most important wine institutions in the province of Trieste
You will experience a journey among the native wines of the Carso-Kras DOC area: Istrian Malvasia, Glera and Refosco d'Istria
Taste the nuances of extra virgin olive oil from Trieste and the native Bianchera, a variety that has defied the mists of time
You will be able to enjoy the quiet and relax of the Rosandra river that flows next to the winery
Venue

Loc. Bagnoli della Rosandra - Boljunec, 624, 34018 San Dorligo della Valle TS
Free parking available on site
Bus n.40 or n.41 leaving from Trieste Centre
Offered by
alpeadria.live
34018 - San Dorligo della Valle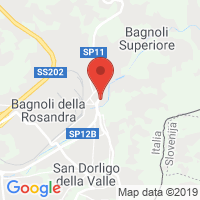 0 Reviews
Unfortunately there are no reviews available. Be the first to review Val Rosandra Wine Experiences.
More offers from this partner