Entrance to the Wolf Park - Saint Martin de Vésubie
–20%
Come and visit the Alpha Park in Saint Martin de Vésubie and explore the 18-hectare Mercantour National Park to discover and learn about the wolves that call its vast natural space home.
Ideal for children
Wolves in their natural habitat
Various animations
Educational experiences
Great value for money
Included

The entry ticket, valid for 1 day.

Duration
1 Day
Bring along

Dress warmly in winter (the park is often snowy).

Categories
Zoos & Animal Parks, Leisure Activities, Zoos & Animal Parks in Saint-Martin-Vésubie, Zoos & Animal Parks in Provence-Alpes-Côte d'Azur
Languages
English, French, Italian
Opening hours
08/26/2019 – 11/30/2019
Lu, Ma, Me, Je, Ve 10:00 - 17:00
Sa, Di 10:00 - 18:00

Region
Saint-Martin-Vésubie, Provence-Alpes-Côte d'Azur
Requirements

Cette activité est adaptée aux personnes présentant un handicap physique (personnes malvoyantes, sourdes et muettes).

Important information

Make sure to double-check the park's opening times before your visit (especially in middle and low seasons).
The park's days of operation:
The park is open every day from 10am
From the beginning of April until mid-November
In low season, the park is open on Saturdays and Sundays and every day during the short school holidays.
The park is closed from mid-November to mid-December.
Venue
Head to the Welcome chalet to exchange your confirmation tickets for your entry ones.
Parc des Loups - ALPHA - Le Boréon
Rd 89 chalet d'accueil - Le Boréon, Saint-Martin-Vésubie, France
There is free parking on-site (though often congested in high season)
Line NICE / ALPHA, LES LOUPS DU MERCANTOUR from Nice. Contact the network at: 04 93 85 92 22
Offered by
Syndicat Mixte pour le développement de la Vésubie et du Valdeblore
06450 - Saint-Martin-Vésubie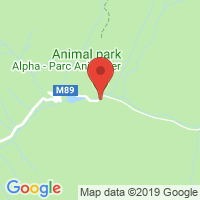 Further information
In just a day or half-day, discover 3 species of wolves: the Erps pack, the Boréon pack, and the Pélago pack. 
Walking path: 
 1,2 km. A picnic area, a snack bar, and free lockers are at your disposal. 
We love:
- During the summer season the little farm, as well as recreational workshops for children, open in the park. 
- The trapper's campsite during the season.
8 Reviews
Cher
Cher par rapport à ce qu'on a pu voir.
Le site de vente ok
by Dorota on 09/13/2019
Trop déçue
Je suis venue avec ma famille et mes 2 enfants. Nous sommes tous répartis très déçue, peu de loups, pas du toute attractif pour les enfants et les spectacles animé par un fauconnier qui se moque des enfants....Je ne le recommande pas. Point positif le mercantour est magnifique l été comme l hiver

by Morgane Goyard on 08/26/2019
Une magnifique journée au parc Alpha
Très bel endroit dans le Mercantour, reposant et très interessant. On y passe une chouette journée ! A faire et refaire.
by Alexia Landi on 08/22/2019
More offers from this partner