A guide leads the tour of the former residence city of Dresden. To set the mood, there is a Zwickelbier, then participants will be led around the city to then relax with a small snack and a meal later on.
Experience and learn about Dresden's beer and pub culture
Beer tasting, homemade Saxon snack and main course
Exciting trip into the city's history
Venue
Meeting point: The Crown Gate of the Zwinger
Kronentor des Zwingers
Ostra-Allee 11, 01067, Dresden, Deutschland
Parking has to be paid for and is available in Kleinen Brüdergasse 3 and in the Devrientstraße
Tram 11: Dresden Krongresszentrum/House of Press, 1 minute walk
Offered by
Events For Life
01067 - Dresden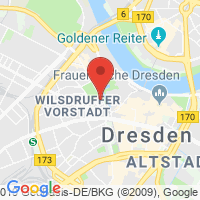 Further information
The guide takes participants through the history as well as through the beer and pub culture in Dresden. At the same time the culinary side is also explored. The first stop is at Radeberger Spezialausschank, where the guide will explain in detail about the Radeberger Pilsner. To satisfy the curiosity of the guests, everyone will enjoy of a nice Zwickelbiers. This unfiltered Pilsner beer is poured from special barrels and cannot be found anywhere else.
To be strengthened for the second part of the tour the participants will consume a homemade Saxon snack plus a fresh draft beer at the historic Sophienkeller.
After the repast, the group will visit numerous Dresden landmarks. Highlights of the tour include:
Zwinger
Semperoper
Radeberger-Spezialausschank
Hofkirche
Residenzschloss
Fürstenzug
Neumarkt
Frauenkirche
Powder Tower
After a trip to the old town the culinary highlight comes during a visit to the famous Gewölberestaurant Pulverturm in the vaulted Coselpalais restaurant at Neumarkt. At the Powder Tower you can chose from the following main dishes:
Crispy braised pork grilled with sauerkraut and plum dumplings
Sliced turkey with mushrooms in cream sauce served with herb rice
Homemade pork aspic with remoulade and fried potatoes
Saxon Sauerbraten with raisin sauce, red cabbage and potato dumpling
Rigatoni with grilled king prawns, arugola, pesto and parmesan
1 Reviews
Durchführung war Grossartig
Uns hat die Bierführung durch Dresden sehr, sehr gut gefallen. Die Magd Mathilde hat es sehr gut verstanden, uns zu Unterhalten. Die Bierpausen waren sehr gut geplant und genügend.
Was zu bemängeln ist, ist dass der Treffpunkt falsch mitgeteilt wurde. Wir standen am falschen Ort und mussten uns durch das Internet wühlen, um eine Telefonnummer zu erhalten, damit wir den Treffpunkt erfuhren. Dies führte bei uns zu unnötigen Stress und Anspannung.
Bitte in Zukunft darauf achten, dass der richtige Treffpunkt klar kommuniziert wird.
by Anita I. on 05/29/2017