KITE DROP AT SEA Without Equipment 1 Session (3H)
Located on the port of Santa Lucia in Saint-Raphaël, starting from the age of 12.
The drops at sea are ideal to continue to evolve in complete safety and progress (with coaching) transitions, speed, upwind.....
The Kitesurfing Sea Drop-offs are for autonomous people who have completed a training course in our school by validating Level 2 or IKO LEVEL 3. All sessions are done in open water with DEJEPS qualified instructors and safety boats to guarantee you optimal comfort.
Strong sensations and immediate enjoyment
Accessible to all (much easier than windsurfing)
Pedagogical method that allows you to take your first steps in 3-4 lessons
Ideal to learn all the basics of kitesurfing and discover the activity
Remember to take sunscreen, sunglasses and water
Included

Supervision

Duration
3 Hours
Bring along

Swimsuit, sunscreen, towel

Categories
Water Sports, Sport, Water Sports in Saint-Raphaël, Water Sports in Provence-Alpes-Côte d'Azur
Languages
English, French
Opening hours
Region
Saint-Raphaël, Provence-Alpes-Côte d'Azur
Requirements

Do not present any medical contraindications.

Swimming skills

Important information

Do not present any medical contraindications. Swimming skills.
Activity subject to weather conditions.

In case of total absence of wind over the weekend, which is very rare in Saint-Raphël, the 3rd session will be replaced by a Wake-Board or Wake-Surf session according to your wishes.
Venue
KITE FOIL SCHOOL SAINT-RAPHAEL
120 place du club nautique 83700 SAINT-RAPHAEL
free parking all year round
AGGLOBUS n°8
Offered by
Kite Foil School
- Saint-Raphaël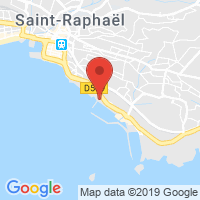 Further information
The Drop off at sea is not a course, this 3 Hour session is for "autonomous" practitioners who already had training courses to ride upwind and who wish to practice safely while taking advantage of small tips to progress ;-)
3 Reviews
Top
Oui
by régis GAUDIMIER on 05/15/2019
Bien dans l'ensemble
Je trouve difficile de réserver directement sur Internet sans savoir qui vient sur le bateau, quel est l'état du vent, quelle sera la voile la plus adaptée, et des infos sur les caractéristiques de l'environnement (houle, vague, type de vent, force du vent, régulier ou irrégulier, etc …).
Je me suis retrouvé en très grande difficulté à un moment donné et le bateau était vraiment trop loin pour intervenir, mais ce n'est pas la faute du moniteur, c'est juste que gérer 3 débutants et deux déposes en même temps, sont trop complexes à gérer au niveau sécurité.
by philippe josse on 05/15/2019
Bonnard
Oui
by régis GAUDIMIER on 05/14/2019
More offers from this partner