Couple's Private Gellért Spa Massage & Bath with Danube Dinner Cruise
Visit the historic Gellért Spa as a couple, choosing a relaxing package including both a massage and 3 hours in a private thermal bath. After your time spent in the healing waters, board an evening dinner cruise on the Danube with live music to accompany the gorgeous Budapest panorama.
Private bath with chilled sparkling wine and fruit tray for 2 people
VIP couple's massage
Dinner and cruise with live music
Venue
Meeting Point for the VIP massage/Private Bath (30 minutes before the appiontment): Gellert Spa, Kelenhegyi Street 4, 1118, Budapest. Meeting point for the cruise at 18:30: Danube Palace, Zrínyi Street 5, 1051, Budapest
Budapets
1118 Budapest, Kelenhegyi Way 4, Magyarország
Offered by
Hungária Koncert Kft
1114 - Budapest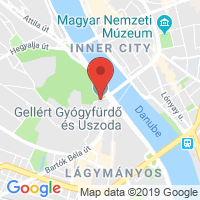 Further information
Pamper yourself with a romantic package for 2 in Budapest, and discover the romance of the city with a spa treatment and indulgent dinner cruise.
The treats start at the historic Gellért Spa in the city center, where you can choose a relaxing massage as a couple, and experience a private thermal bath for 3 hours while sipping from a complimentary bottle of Hungarian sparkling wine and fruit tray.
The private treatment area is separate from the rest of Gellért Spa, but if you want to spend longer and enter the main spa area, then you can get tickets at the Welcome Desk on arrival.
Indulge in a 60-minute long massage for 2, and feel the benefits of the therapeutic volatile oils as they strengthen and purify your skin and immune system.
Then, climb aboard a pleasure boat and cruise along the Danube River, enjoying romantic views of the city from the water as the monuments light up at dusk. Departing at 19:00, the cruise includes a buffet-style dinner, and live music, along with a welcome drink and complimentary wine or beer or juice.
0 Reviews
Unfortunately there are no reviews available. Be the first to review Couple's Private Gellért Spa Massage & Bath with Danube Dinner Cruise.
know betterbook bettergo better
TripAdvisor Traveler Rating
1445 Reviews
More offers from this partner