Guided visit to Ile Saint Honorat
Take a boat ride with Contraste & Fusion and explore the Saint-Honorat Island. Don't forget to take plenty of photos and make everyone you know jealous! The island still holds its secrets...
Boat crossing ot included
A guide approved by the Lérins monks
A unique environment
Visit and relax with total peace of mind
Venue
The service provider will notify you of the exact meeting point for the boat crossing.
CONTRASTE & FUSION
Quai Laubeuf, Cannes, France
There is paid parking available.
The Cannes SNCF station is 300 metres away.
Offered by
Contraste & Fusion / ECA
06400 - Cannes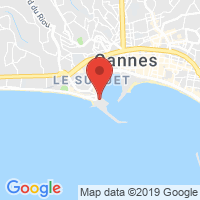 Further information
Saint-Honorat Island's heritage guides are offering you the unique opportunity to discover the origins and history of the island and of the Lérins Abbey. 
Come and enjoy an easy and accessible cultural stroll. 
What you will do :
Take a boat to the island, then listen to a small presentation on its history and importance.
Follow the guide through the story of this history-charged island. 
After the visit, enjoy some free time. 
Regular boat shuttles from the island can bring you back to Cannes.
3 Reviews
Très bien organisé
Nous avons été accueillis par Elodie. Un petit groupe moins de 15 personnes Elle nous a fait visiter Saint Honorât en partageant sa passion et sa culture.
Elle nous a parlé de l'Histoire, du monastère et des moines, mais aussi des cigales
Merci Elodie pour ce très bon moment
by JACQUES FLOTTES on 07/29/2019
Guide super sympa
Super visite, la guide Amandine super sympa, elle nous a appris pleins de choses intéressantes sur l'île.
by Frederic Bost on 07/23/2019
Visite tres agréable et instructif , deux guides très complémentaires, ile magnifique avec beaucoup d'histoire.
Sortie bien encadrée et organisée, je recommande cette visite à tout ceux qui cherche un peu d'évasion au calme.
by Geneviève ESTER on 06/12/2019