Rome: Unique Attractions & Things To Do
Rome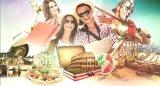 Rome, also known as the "Eternal City", is a phenomenon that has enchanted countless people for millennia. Legend has it that the city was founded in 753 BC by Romulus and thus, the great Roman civilization was born and we are still fundamentally affected by its legacy today. Its other major claim to fame is its role as the center of Roman Catholicism with its spiritual head based primarily in the Vatican City.
Since 1870, Rome has been the capital of Italy with 2.7 million people living within the city limits and is also the capital of the Lazio region. For first time visitors, it is essential to do some sightseeing to learn and appreciate more Rome's history. However it is not all about the past! The capital boasts a lively nightlife scene and is one of the fashion capitals of the world. Whatever your reasons for visiting Rome, it is guaranteed to leave a lasting impression.
Things To Do In Rome – Sightseeing
Sightseeing
From prominent Roman ruins, magnificent churches and Renaissance inspired architecture, Rome's landmarks cover one of the widest and richest periods in history with enough to keep you occupied for at least a few days. One of the most valuable methods for exploring the city is by guided tour through districts including Colosseo, Trastevere and of course the Vatican. An experienced professional guide will be able to tell you some interesting facts that you won't find in your normal history book. A bus tour is ideal for travelling around a greater radius of the city where you can stop at each highlight and explore at your own leisure. Otherwise a walking tour allows you to examine each monument more thoroughly and discover more hidden secrets about the city you would not find on the road.
Ancient Rome
In the heartland of the city, it is impossible to miss the impressive monuments left by the Ancient Romans. The most prominent has to be the Colosseum (Colosseo) built in the 1st century AD. It is the largest amphitheater in the world and stands as a reminder of the architectural brilliance of the Ancient Romans. Once it would have held 80,000 spectators who would crowd to see gladiator contests, animal hunts and public spectacles. In the same district, you will also discover the Capitoline Hill with its museums, the Forum and Trajan's Market. In the Old Rome district, it is also possible to see the Pantheon built by the Emperor Hadrian and dedicated to the Roman gods.
Vatican City
Named after one of the seven legendary hills in which Rome was founded, the Vatican City has the unique position of being its own sovereign state. This is the center of the worldwide Roman Catholic Church and its head - the Bishop of Rome, is more recognizably known as the Pope. This enchanting complex is centered around St Peter's Square, designed by the great Renaissance architect Gian Lorenzo Bernini. From this location, it is possible at midday on a Sunday to hear the Pope from his balcony and receive his blessing.
St Peter's Basilica has an impressive dome designed by Michelangelo which you can climb up and get a spectacular view of Rome. It is also the site of the burial of the Apostle St. Peter who was the first Bishop of Rome. The Sistine Chapel is also a highlight with its spectacular ceiling painted by Michelangelo and is also where cardinals from around the world gather for papal conclave where they elect a new Pope to lead the Catholic Church. The Vatican Museums are also worth a visit and made up of 2,000 rooms containing splendid artifacts throughout history.
It is recommended to start your visit to the Vatican in the morning as you could easily spend the best part of the day in the complex. Please remember when visiting that there is a strict dress code where you must have your shoulders and knees covered and it is customary to take your hat off inside a church.
Later History
There are also a lot of impressive highlights celebrating the later period of Rome's history when it was still part of the Papal States and after it became the capital of unified Italy in 1870.
The Trevi Fountain (Fontana di Trevi)is one of the most famous fountains in the world and a highlight of Baroque architecture having been used in the film "La Dolce Vita".
The Spanish Steps built in the 18th century is one of the widest staircases in Europe with 138 steps linking the Piazza di Spagna with the Piazza Trinità dei Monti.
The National Monument to Victor Emmanuel II – the first king of unified Italy – displays neoclassical architecture located on the Capitoline Hill. It is noticable for its prominent white color compared to the other buildings in the area and has caused controversy regarding its location and grandeur.
The Palazzo Venezia – once a papal palace in the 15th century – was the site where the fascist dictator Benito Mussolini delivered many of his public speeches. Today it is a museum containing art and medieval tapestries.
Museums
There are no shortage of museums to visit in Rome and many of them were designed to celebrate different architectural styles from different time periods as well as commemorating the city's Roman heritage and cultural traditions.
The Villa Borghese is one of the most famous museums which houses the collection of artworks of the once influential Borghese family who supported the works of Bernini, Raphael, Titian and Caravaggio. This impressive gallery includes classical and Neoclassical architecture.
The Keats-Shelley House was the last residence of the great British Romantic poet John Keats and located right next to the Spanish Steps. This museum houses a collection of memorabilia including letters and paintings relating to Keats.
The Capitoline Museums consist of 3 main museums built between the 12th and 17th centuries. They contain ancient sculptures including a bronze statue of the legendary Romulus and Remus being suckled by the she-wolf. You can also find mosaics, busts and other artefacts celebrating Rome's Ancient Roman heritage and is a must see attraction for those interested in this period of history.
Things To Do in Rome – Leisure Activities
Leisure Activities for Everyone in Rome
While of course the vast majority of visitors travel to Rome primarily to view its historical splendors, there are still other activities and attractions to keep everybody entertained. From watching a football match at the Stadio Olimpico to exploring the chic cafes of Trastevere, there are various ways of engaging in different aspects of Italian culture.
Attractions
Unless your kids are already keen on exploring ruins, churches and museums, there are very few attractions especially designed for them. The Bioparco is a zoo with around 222 species including tigers, wolves, giraffes and meerkats. For football fans, A.S. Roma and S.S. Lazio both play their home fixtures at the Stadio Olimpio which has a capacity to seat over 70,000 spectators. Otherwise there is also the Circus Maximus, which was used to host chariot races in ancient times but is now a popular public park which sometimes hosts open air concerts.
Cuisine
For fans of Italian food (nearly everybody!), there is most certainly no shortage of options for dining and ordering food. From family-run bistros to sidewalk cafes serving simple yet delicious food, there are always a few good restaurants located nearby. Naturally you will find plenty of places that serve pizza although traditionally with a thin crust and in terms of pasta dishes, Spaghetti Carbonara and Fettuccine Alfredo originate from the region. It is also worth trying Saltimbocca alla Romana which is veal wrapped in prosciutto ham and sage. Don't forget to stop at a gelataria (ice-cream parlor) where you can indulge in a wealth of intense flavors including ricotta, mint, coffee as well as the traditional Neapolitan flavors.
Shopping
On the path towards the Piazza di Spagna through via Condotti, you will find the major boutique stores and luxury brands including Armani, Gucci, Cartier and Louis Vuitton. Otherwise you can visit Euroma2 which is the biggest shopping mall in Rome with around 230 shops. For souvenirs, there are plenty of market stalls located within close proximity to the main sights although be careful of fake designer bags and leatherware being sold.
Rome at Night
At night, it is possible to have a leisurely coffee or espresso in one of the outdoor cafes or even sample some local wine from neighboring Tuscany or Campania. Italy is also famous for its musical tradition so why not go and see a concert at the Auditorium Parco della Musica. The venue can accommodate a wide range of performances from classical to modern pop music and is also used for stage plays and film premieres. Alternatively, you can watch an opera at the Teatro dell'Opera di Roma where Luciano Pavarotti and Maria Callas once performed.
If you are looking to explore Rome's bar and club scene it is recommended that you participate in a pub crawl where guides will take you to the best venues in the best locations, meet other likeminded people and you might even get discounts for drinks. The district of Testaccio is one of the most fashionable neighborhoods where you can go in to a venue and party with the locals. For younger people, the San Lorenzo district has a range of bars and clubs frequented by students from Sapienza University of Rome.
Things To Do Beyond Rome – Ostia, Tivoli & The Castelli Romani
Beyond Rome
Around the periphery of Rome, there is a wealth of other popular and worthwhile sites where it is easy to organize an excursion. They are all accessible by train from Rome Termini or Tiburtina Stations and might take up to an hour to reach. This is a good opportunity to escape from the more metropolitan surroundings further into the hinterland where you get a glimpse to another dimension of Italian culture.
Ostia
Ostia was once Ancient Rome's main port where grain was shipped from Carthage and subsidized for the Roman populace. This is a perfect opportunity to explore further its Ancient Roman history where you will find remarkably well preserved monuments including two bath houses, the forum, apartment buildings and a museum with more findings discovered during excavations.
Ostia is also a popular place for Romans to come to the beach and is a vibrant town that comes alive at night.
Tivoli
Tivoli is an hour away by train from Tiburtuna Station. This is the site of Emperor Hadrian's Villa where the ruler would stay outside his normal Palatine Hill residence in Rome. The complex is very large and contains a vast collection of Roman ruins including marble statues and mosaics making it a UNESCO World Heritage Site. Additionally, the 16th century Villa d'Este is a highlight of the Renaissance with its spectacular terraced gardens and water fountains.
The Castelli Romani
The Castelli Romani are a cluster of small hill towns southeast of Rome. This was a popular getaway for the Roman aristocracy for centuries and is also the location of the Pope's summer residence at Castel Gandolfo overlooking Lake Albano. The town of Frascati is also popular for its tranquil atmosphere and is famous for its white wine. It takes only 30 minutes by train from Roma Termini Station.
Come and Visit Rome
Whether you intend to explore a little further outside the city or stay in the heartland of this ancient capital, there is no doubt that there is plenty to keep you occupied in Rome. Just like it did 2,000 years ago, Rome continues to fascinate many visitors and is a key city for learning about the foundations of contemporary European civilization. Its legacy is so great that many of today's languages, law codes, religions and political systems were influenced by Roman civilization and thus, it fully deserves its title as the "Eternal City".