Activities and Attractions in Stuttgart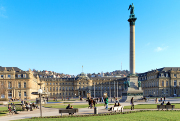 Things to Do in Stuttgart at the Weekend
There are a number of landmarks and attractions in Stuttgart city which are popular with visitors of all ages, such as the Wilhelma, a combination of a zoo and botanical garden, which makes a great choice of attraction for families, and features a range of rare and exotic plants and animals, as well as the opportunity to rest and relax in the gardens meadows. Another popular destination is the island of the Esslingen Neckar River, home to a number of different species of indigenous wildlife, while a large playground can serve to entertain the children. The Carl-Zeiss-Planetarium, meanwhile, offers a variety of fascinating shows which can entertain and educate adults and children alike.
Enjoy Your Leisure Time in Stuttgart!
The state capital of Baden Württemberg, there are many things to see in Stuttgart. Many visitors are drawn to the city of Stuttgart due to the number of cultural landmarks and attractions, including a large number of museums, theatres galleries and historic buildings. This makes Stuttgart a favourite destination for lovers of culture and the arts.
Those with an interest in music, meanwhile, have the chance to enjoy the State Orchestra, the Philharmonic and many other city choirs and orchestras. Stuttgart also draws many visitors for a variety of popular events, the largest being Volksfest, an agricultural event which has come to include beer tents and a French village. The festival is second in size only to Munich's Oktoberfest. This is how you can discover Stuttgart's many attractions with Regiondo.
Recreational Stuttgart - discover the region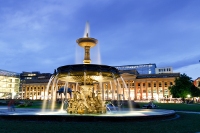 Tourism in Stuttgart extends beyond the boundaries of the city itself. A popular destination near to Stuttgart is the university town of Tübingen, and is an attractive old town full of history. There is also a variety of natural attractions and destinations around the region, including the beautiful Urach Waterfalls, while visitors can also take a boat trip on the water. Tripsdrill adventure park, meanwhile, offers a great day out for kids, with roller coasters and Ferris wheels as well as other attractions. For a more placid day out, many visitors enjoy a canoe trip down the Neckar. With Regiondo, you can book your visit to a Stuttgart attraction and experience what the city has to offer.