Activities and Attractions in Mainz
Further Attractions in Mainz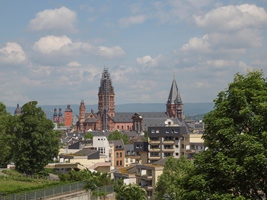 For those looking for a more active trip around Mainz city, less conventional activities can be sought out and booked for all ages. For instance, you might decide to acquire a gym day-ticket and get yourself fit before deciding which aspects of tourism in Mainz you're going to explore first. For a more relaxing experience, also check out the health spas, yoga lessons and pottery classes that may suit fun-seeking couples looking to try out a hobby together.
However, for more traditional Mainz attractions, head towards the many churches that make up a part of the city's history. The Cathedral of St. Martin, Christ Church and Church of St. Stephan all provide beautiful and magnificent Christian places of worship to visit. The Mainz Synagogue is a more recent building and provides a good alternative.
Mainz Culture
Museums are a big part of what to do in Mainz. The Gutenberg Museum is famous for its wide selection of exhibits, the majority of which will have descriptions in English. The Museum of Ancient Sea Travel and Roman-Germanic Museum both give an insight into the Roman heritage that Mainz was built around.
The shops and markets are also among the best things to see in Mainz, check out the outdoor market place that is set up on the weekends outside the cathedral. If you are a sports fan and visiting the city whilst the Bundesliga club FSV Mainz 05 are playing a home game, then be sure to go check out their 34,000 capacity Coface Arena to witness one of the most exciting leagues in the world.
For these and many more attractive things to do around Mainz, look for the many offers available online. Booking is quick and easy, meaning you can save time and money whilst planning trips in the city. This is how you can enjoy activities and attractions in Mainz with Regiondo.
Getting Around Mainz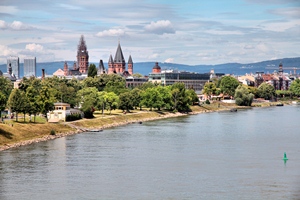 Although the nearest airport to Mainz is in Frankfurt, it is only a 30-45 minute train journey from there to the main Hauptbahnhof train station. The centre of the town and main hub of hotels/shops are accessible from here via either taxis, buses and even on foot. Look for tourist information centres on your trips for any further information on how to get around.
Mainz is a beautiful city for all the family to visit, with something to enjoy and discover for everyone. For a comprehensive list of activities and attractions in Mainz, Regiondo offers these at a cheaper rate than elsewhere.