Activities and Attractions in Heidelberg
Heidelberg, the Romantic city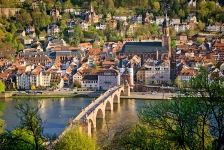 Heidelberg, often called the Romantic city due to its charming location and architectural style, offers all kinds of attractions. Take a Heidelberg guided tour through the beautiful old town, where visitors can stroll along the pedestrianized high street and discover the variety of available shops for souvenirs, or stop at a cafe for something to eat. The old bridge and the bridge gate, meanwhile, are a popular landmark and offer a great photo opportunity.
Tourists can also take a cruise along the River Neckar, and take in the beautiful scenery. If it rains, there are a number of museums on offer, including the Palatinate Museum which offers a large collection of art as well as Roman artefacts. The city also features a number of cinemas, including those that offer mainstream films and more independent, art house cinemas.
Things to do in Heidelberg
There are many tourist attractions in Heidelberg, particularly for those interested in history, culture and the arts. There are a number of exciting events on offer throughout the year. Some of the most popular include the Mannheim-Heidelberg International Film Festival, the second oldest such festival in Germany, which screens the films of international newcomer directors, and the Old Town Autumn Festival, which features a medieval market, a flea market and a variety of live music.
For a more unusual experience in Heidelberg, why not see the city from the skies with a helicopter tour around the area, or take a Heidelberg Segway tour along the famous Philosopher's Walk, which offers spectacular views of the Old Town and Heidelberg Castle. Younger children, meanwhile, will enjoy the Maerchen Paradies, a fairy tale adventure in the forest.
This is how you can enjoy the many Heidelberg attractions with Regiondo.
Excursions and Attractions in the Heidelberg Region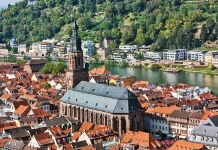 Tourism in Heidelberg offers much to do in the surrounding region too, and there are a number of popular day trip destinations. The town of Weinheim is a scenic place to have a stroll through some of the historic buildings and a castle, as well as a market with plenty of cafes and restaurants to eat at. The journey here takes visitors through some scenic areas, including small villages and vineyards. The town of Speyer, meanwhile, offers a historic cathedral as well as a car museum and an IMAX cinema. There are Heidelberg city tours to be found which can suit visitors of all ages and interests.